Futurama: Bender's Game
(2008)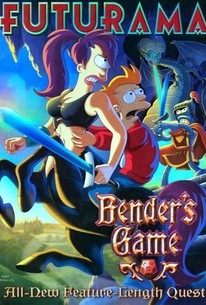 Futurama: Bender's Game Photos
Movie Info
The price of spaceship fuel is skyrocketing, leaving the Planet Express crew with the treacherous task of infiltrating the world's only dark matter mine to acquire the precious fuel that keeps their world running smoothly. But deep beneath the mine, far under the surface, is a medieval land of fantasy where dragons roam free, sorcerers cast powerful spells, and drunken knights who bear an uncanny resemblance to Bender stumble about aimlessly. Featuring the voices of former Star Trek star George Takei and famed comic impressionist Rich Little.
News & Interviews for Futurama: Bender's Game
Critic Reviews for Futurama: Bender's Game
Audience Reviews for Futurama: Bender's Game
Dwayne Carey-Hill pulls a page from J.R.R. Tolkien to assemble Futurama: Bender's Game.
Spanning the length of 4 episodes, this 80 minute piece of work goes fantasy with Dungeons & Dragons to trigger the spark for the rest of the movie. The writing comes across as a bit lazy and less original, which isn't exactly good news; however, the amusement level is still in existence.
The comedy has its share of laughs, mostly in the film's final act when it decides to parody The Lord of the Rings. Fry definitely has his moments here. Actually, he has his moments everywhere.
There are a lot of guest stars to provide voices for out of the blue characters, but it is the usual cast of Billy West, Katey Sagal, and John DiMaggio among others getting the job done.
As a whole, Futurama: Bender's Game feels a little less like "Futurama," but that's okay.
Oh my nerd references.... another giftie for the fans. I must say I do like all of the references from the series put in the movies. It's subtle and part of that 'goft to the fans' thing.
Jennifer D
Super Reviewer
½
Enjoyable for the most part.
James Alvarez
Super Reviewer
Futurama: Bender's Game Quotes
There are no approved quotes yet for this movie.