Futurama: The Beast With a Billion Backs
(2008)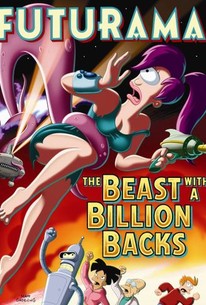 Movie Info
Made-for-video feature based on Matt Groening's animated TV series
News & Interviews for Futurama: The Beast With a Billion Backs
Critic Reviews for Futurama: The Beast With a Billion Backs
Audience Reviews for Futurama: The Beast With a Billion Backs
Peter Avanzino rips open the portal to another universe in Futurama: The Beast with a Billion Backs.
The title of the movie becomes clear as this picture turns into one oddly amusing 80+ minute story. With all the characters and all the subplots going around, it's no wonder that a series that usually consists of 20 minute episodes can turn out a full-length feature like this.
The laughs do come in short supply when compared to what could have been generated, but there is still enough entertainment value with all the character cameos and over the top science fiction antics taking place.
The original cast once again lends their talents to voice the major characters, while a few guest stars, like David Cross and Brittany Murphy, step in for an appearance.
Futurama: The Beast with a Billion Backs' opening credits gets things going on the right foot. It's downhill from there, but that's not to say that this is bad.
Is it weird I think I overall liked this one more than the first? Truly a gift to the fans. Hearing Brittany Murphy was kinda sad. :/
Jennifer D
Super Reviewer
James Alvarez
Super Reviewer
Futurama: The Beast With a Billion Backs Quotes
There are no approved quotes yet for this movie.