Future Weather
(2013)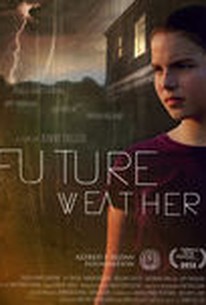 Movie Info
Lauduree (Haney-Jardine) is a 13-year-old loner passionate about nature and worried about global warming. Greta (Amy Madigan), her grandmother, is a fiery nurse jaded by alcohol and disappointment. When Lauduree is abruptly abandoned by her dreamer single mom (Marin Ireland), she decides to take survival into her own hands, forcing her and Greta to rethink their futures. Featuring humorous, sharply drawn characters and powerful performances by Amy Madigan (Field of Dreams, Gone Baby Gone), Lili Taylor (Say Anything, Six Feet Under), and rising star Perla Haney-Jardine (Kill Bill Vol. 2, Spider-Man 3), Future Weather is about finding the courage to survive change. (c) Lipstick Pictures in association with First Pond Entertainment and Virgil Films
Critic Reviews for Future Weather
Audience Reviews for Future Weather
½
Future Weather isn't a film I had planned on watching. I didn't know anything about it. But when I saw that it starred Amy Madigan and Lili Taylor I thought I would check it out. The film has gotten high praise from the critics which is rightly given. The film is really well done. The story is about a young girl named Lauduree, who is in a really tough living situation. She has a mother who is young and a bit lost in life. She is flaky and unstable. Lauduree is one of those unfortunate kids who end up raising themselves. When her mother abandons her to follow her dream of being a celebrity make-up artist in California, Lauduree tries to take care of herself without the help from anyone. She gets a job tutoring thinking she can pay all the bills with the money. Soon she realizes that things cost more then she can afford and ends up shop lifting and getting caught. The cops call in her alcoholic grandmother, Greta, who had no idea her daughter has skipped town leaving her granddaughter behind. Greta tells Lauduree that it's best she move in with her. Lauduree refuses the idea not wanting to leave her project (her trees) behind. But she doesn't have much of a choice. I think Lauduree focuses so much on her project and Global Warming because she feels like this is something she can control since her life is so unpredictable. She just wants to make the world a better place and maybe find a place she belongs in the process.
♥˩ƳИИ ƜѲѲƉƧ♥
Super Reviewer
½
A filmmaker can strike gold their first time thus is the case for first time director/writer/producer Jenner Deller. It's hard to imagine a women who never attended a day of film school has such a magnificent understandings with visuals complementing the passionate storytelling. If Deller debut Future Weather proves anything is that she has plenty of potential to thrive in the film medium. Future Weather is a character piece about Lauduree, a young passionate environmentalist, whose single mother runs off to California. Surrounded by people moving in their own directions while trying to cope with the heartbreak of being abandoned by her mother, Lauduree starts to act out, angrily pushing back against those around her. Some might find the whole environmentalist angle a bit annoying since Lauduree does shout out ecological facts out of nowhere. To the film credit it doesn't overplayed that angle of Lauduree where it becomes preachy. If anything the characteristic is a key fundamental in showcasing the evolution of her. It metaphors a deep struggle within Lauduree mind without losing a shed of relatability from the audience. The plot is a relatively simple one to follow being primarily driven by it characters. We get in depth looks not us at our protagonist life, but also those around her. Each major character contribute something important to the protagonist and her progression in the story. Never does one character feel like they go to waste. Heavy on plot around fully fleshed out characters create a strong, simple, and deep dramatic story. Leading actress Perla Haney-Jardine performance is reminiscent to that of Lawrence in Winter's Bone. Being able to convey the hidden pain of her character. Handling the both the heartbreaking and love scenes with ease. Never coming off as too dramatic in a breakdown or too intelligent when shouting ecological facts. Perla Haney-Jardine has potential that can make her a breakout star. The main cast consist of purely females which is a very nice welcome. Each of the actresses get to the root of the character of their characters. Marie Ireland while not appearing a majority of the screen time comes through convincingly as a well meaning, but incapable mother. Amy Madigan is the opposite portraying a grandparent who while taking care of a child at the sacrifice of her own personal life is more too than what is on the surface. Representing a take that gives an understanding for her strict parenting while never coming off as a verbally abusive caretaker. The visuals while simple say highlight the beauty of nature and emotions of the scene. Using lighting wisely present the mood of a scene or a new permanent change. Future Weather is a excellent debut film from first time writer/director/producer Jenny Deller showing a clear understanding of the medium and a profound confidence. It has a great script that simple to follow with depth, a cast of actors who all understands their roles, and rightful use of visuals as a tool benefiting its storytelling.
Caesar Mendez
Super Reviewer
Future Weather Quotes
There are no approved quotes yet for this movie.