Fyre
(2019)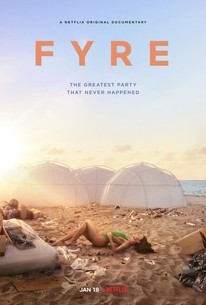 TOMATOMETER
AUDIENCE SCORE
Critic Consensus: Fyre smolders with agonizing tension when a party in paradise goes awry, but this slickly assembled documentary reserves its greatest horror for damning observations about the dangers of wealth.
Movie Info
An exclusive behind the scenes look at the infamous unraveling of the Fyre music festival. Created by Billy McFarland and rapper Ja Rule, Fyre was promoted as a luxury music festival on a private island in the Bahamas featuring bikini-clad supermodels, A-List musical performances and posh amenities. Guests arrived to discover the reality was far from the promises.
News & Interviews for Fyre
Audience Reviews for Fyre
Making me literally hold my breath in expectation for every next bit of information with a story that is too bizarre and hilariously insane to be fiction, this is a superbly edited documentary about what happens when you put too much power in the hands of a pathetic playboy.
Carlos Magalhães
Super Reviewer
½
Outlandishly revealing and near-heartbreaking at times, this Netflix documentary shares very unbelievable perspective of those constructing a pivotal-yet-disastrous event. Fyre will give audiences a tirade of feelings that provide understanding and disdain for all involved. 4.5/5
Eugene Bernabe
Super Reviewer
½
It takes a lot for a Documentary to grab my attention, simply due to the fact that I prefer fictional stories over something that I can just read a news article about and get as much information as watching a film about it. That being said, the very idea of this true story grabbed my attention immediately. While I would never personally run an event of this scale or really share any real relation to people who do this kind of thing, I felt terrible for nearly everyone involved in this story. This isnâ(TM)t a film that will make you feel good about yourself in any way, but rather expose those who do things without fully comprehending the magnitude of what they are creating. Hereâ(TM)s why I believe everyone should check out Fyre: The Greatest Party That Never Happened. Following Billy (a young entrepreneur) as he recruits big name performers like Ja Rule and worldwide models like Emily Ratajkowski, his big plan is to create the biggest music festival the world has ever seen. Promising flights to the island in the Bahamas that it will be held at and luxurious accommodations, it truly would look like something thatâ(TM)s not to be missed for those who could afford to attend. While that all seemed great, the budget they came up with and the gameplay they created, clearly wasnâ(TM)t thought-out enough, because the event itself slowly collapsed and the worst of it happened when the people actually were there to experience it. This is a story, similar to the documentary Three Identical Strangers, that has to be seen to be believed. From one instance to another, this is a film that exposes the worst side of a business that has plummeted to the ground. Through fraud, false advertising, and a man who really has done nothing but lie to his co-workers and employees, it really was a frustrating and unnerving experience to sit through. I found myself disgusted when viewing what the guests had to go through once they arrived. This truly was one of the worst-planned events in history. Overall, this is a film that needs to be seen, due to the fact that people ned to know that things like this happen on a daily basis. This is obviously one of the most extreme versions of these stories, which is why it truly canâ(TM)t get much worse than this. Honestly, I think this is the perfect viewing experience for young professionals who wish to make a name for themselves in ways like this. This a film that showcases what can happen when all the wrong decisions are made. I didnâ(TM)t love watching this film, because I was more outraged than engaged, but itâ(TM)s a fantastically made documentary thatâ(TM)s worth a look.
Fyre Quotes
There are no approved quotes yet for this movie.