G-Men
(1935)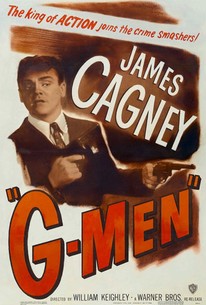 AUDIENCE SCORE
Critic Consensus: No consensus yet.
Movie Info
In G Men, Warner Bros. "bad boy" James Cagney plays James "Brick" Davis, a young lawyer whose education has been financed by soft-hearted racketeer McKay (William Harrigan). When Cagney's best pal, detective Eddie Buchanan (Regis Toomey), is killed in a gangland shooting, James decides to become a G-Man. Though scrupulously honest, Davis is looked upon with suspicion by his fellow agents because of his association with the crooked McKay. He proves he's a "good guy" when his former girlfriend, Jean Ann Dvorak, now the wife of mobster Brad Collins (Barton MacLane), tips him off to a "Little Bohemia"-style gangster hideaway. Jean later sacrifices her own life to help James rescue his new girl, nurse Kay McCord (Margaret Lindsay), from the vengeful Collins. Based on Gregory Miller's book Public Enemy No. 1, G-Men was reissued in 1949, with an added prologue featuring David Brian as an FBI trainer who advises his students not to laugh at the old-fashioned costumes and slang in the 1935 film; seen today, it is Brian's superfluous opening comments that seem hopelessly dated, while the film itself is as exciting and entertaining as ever. ~ Hal Erickson, Rovi
Critic Reviews for G-Men
All Critics (3) | Fresh (3) | Rotten (0)
Jimmy Cagney is just as touch, reckless and compelling as an FBI agent as he is as a gangster in tis fast-moving Warner feature which was embraced by J. Edgar Hoover
Audience Reviews for G-Men
You could easily write this off as being a piece of propaganda/an FBI recruitment film, which is basically is. But it's also just a straight forward, traditional, albeit formulaic ansd predictable crime caper following the exploits of federal agents, or G Men as they strive to bring the major criminals across the country to justice. It's an enjoyable film, sure, but I wouldn't really call it all that great or distinguished. It's not bad, but I don't think it's all that special either. It does feature James Cagney playing a good guy for once, which is cool, but as I said, this is a very typical genre film. The performances are decent though, especially Cagney, and there's a decent amount of humor and some faily decent action, too. All in all, an unremarkable film, but still slightly better than average. I don't fully recommend it, but I'm not saying avoid it either.
Chris Weber
Super Reviewer
½
It can easily be argued that G-Men is nothing more than an FBI recruitment movie, which in a sense it is. But is definitely a great one. James Cagney plays a lawyer turned fed whose benefactor is a mobster whose only wish for him is to go straight. There are plenty of seemingly obligatory plot devices in G-Men, Cagney does... well, Cagney and its a must see for any fan of early mobster movies. The thing I noticed was how Michael Mann's Public Enemies ripped off G-Men's night time raid seemingly verbatim. It's done impeccably here but Public Enemies just got that much shittier...
Michael Gildea
Super Reviewer
½
The film is dated but entertaining. Jimmy's on the right side of the law this time and as nimble as ever and the fantastic Ann Dvorak is wonderful in the smaller of the two women's roles. However Margaret Lindsay is terrible and arch as the female lead.
G-Men Quotes
There are no approved quotes yet for this movie.