Gabriel over the White House
(1933)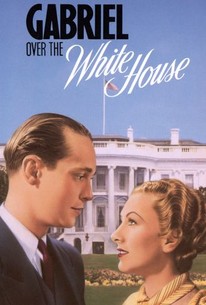 Gabriel over the White House Photos
Movie Info
At the bottom of the Depression, a political hack is elected President of the United States. After suffering a near-fatal car accident, he is inspired by the angel Gabriel to seize dictatorial powers in order to lead the nation out of its woes.
Critic Reviews for Gabriel over the White House
Audience Reviews for Gabriel over the White House
beyond bizarre. walter huston as the president asserts his constitutional authority to become dictator of the u.s. after a near-death experience. he fires everyone and uses federal troops to combat the depression and gangsters. there's even a driveby shooting at the white house! produced by william randolph hearst the same year hitler came to power, it soon became controversial for obvious reasons and wasn't seen for many years. it's an interesting piece of propaganda and still a little bit frightening
Stella Dallas
Super Reviewer
This is a strange but enjoyable film. Walter Huston becomes president during the Great Depression and he approaches the depression without urgency, but then he is in a car accident and is close to death. He recovers suddenly as a different person and starts to run the country as a dictator and fights the economy and gangsters.He bullies his cabinet, congress, and foreign leaders if they don't do as he says. It's hinted that the angel Gabriel has possessed him. This film showed what he was doing as positive and what the country needed, but the film was pulled when Hitler came to power and was doing exactly what Huston was doing. Huston is very good and the film is interesting. It's just a little crazy and it has a scene where gangsters do a drive by on the White House. Never seen that before.
cody franklin
Super Reviewer
One of the more interesting films I have seen of late, but it feels very long. The subject matter is interesting, but watching the film is not.
Marion Ravenwood
Super Reviewer
Gabriel over the White House Quotes
| | |
| --- | --- |
| Nick Diamond: | "The American government is like the American people.. just a bunch of boobs." |
| Nick Diamond: | The American government is like the American people.. just a bunch of boobs. |