Gacy
(2003)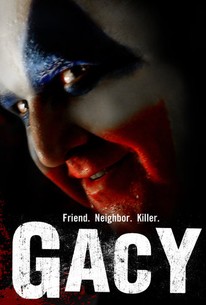 Movie Info
For those who don't know the name and legacy of John Wayne Gacy, the movie is based on the true story of one of the nation's most prolific serial killers (33 murder convictions). Gacy depicts the methods upstanding citizen and neighborhood party clown Gacy (Mark Holton) used to seduce young men, slaughter them and then hide their bodies in the crawl space under the house he shared with his wife (Joleen Lutz) and children.
Audience Reviews for Gacy
Gacy is a disturbing low budget psycho horror film that mixes crime elements with biography to create a decent film that could have been a bit better. Now, I'll go on and say, due to the subject, this is not a film for everyone, and it is a film that is horrifying in terms of the fact that this based on a true life serial killer. Very much like the movie Dahmer starring Jeremy Renner, Gacy, goes into the mind of a depraved and sick individual, thus the subsequent horror is much more significant due to the fact that these events actually happened. Viewers interested in this subject may find this to be a good film. As for me, I thought it was a good little psycho horror film, but one that doesn't necessitate multiple viewings. For what it tries to accomplish, this film succeeds at disturbing its viewers by its story and visuals, and for that, it's an accomplished low budget affair, but one that is inaccurate of the facts, and is mostly played out for entertainment purposes. Mark Holton delivers a good performance in the lead role, but the film could have been so much better as well. However as it is, it's still a disturbing ride into madness, one that will certainly delight fans of these types of films. For a straight to DVD title, Gacy is better than expected, but like I said, could have been a bit better with a tighter script, and focusing more on the facts, then this film really would have stood out and be one of the definitive psycho horror films to watch. Gacy has its flaws, but it does succeed at being unsettling, and I guess that if you're looking for just that, then you ought to watch this film.
½
John wayne Gacy a real life serial killer, now a horror movie. I liked this movie, but beware it is kind of a slow moving movie.Based on a true story of a serial killer, model citizen,loving father and husband. serial killer John Wayne Gacy, a man with over 30 dead men and boys entombed in the crawl space underneath his house which he shared with his family.Mark Holton Does a Great acting job as Gacy.If you like serial killer movies and like to peer into their lives -then you might like this movie.
Cassandra Maples
Super Reviewer
A made for tv version of the story based on the real life Serial Killer John Wayne Gacy and as a result it's not a particularly well acted piece. It's a no thrills, straight forward telling of the horrific murders, but it at least tells the events of the remorseless Man.
Lady D'arbanville
Super Reviewer
Gacy Quotes
There are no approved quotes yet for this movie.