Galaxy Quest
(1999)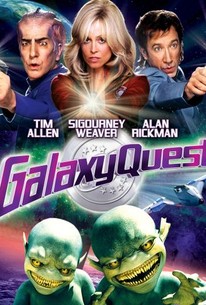 Movie Info
For four years, the courageous crew of the NSEA Protector donned their uniforms and set out on thrilling and often dangerous missions in space - then their series was cancelled. Twenty years later, the five stars of the classic '70s series "Galaxy Quest" are still in costume, making appearances at sci-fi conventions for legions of die-hard fans - but some of those fans are a little more far out than the actors could have ever imagined. A group of aliens who have mistaken intercepted television transmissions for "historical documents" arrive at a convention and whisk "Commander Peter Quincy Taggart" and his crew into space to help them in their all-too-real war against a deadly adversary. With no script, no director and no clue about real space travel, the actors have to turn in the performances of their lives to become the heroes the aliens believe them to be.
News & Interviews for Galaxy Quest
Critic Reviews for Galaxy Quest
Audience Reviews for Galaxy Quest
Does anybody even know about this classic from the first reel? Zowie, nerd kids, zowie! What if aliens saw episodes of Star Trek and thought it was the real deal? A great starting point for a sci-fi story. And Sigourney (practically the queen of sci-fi) is not serious, she's playing for comedy, for laughs - a career move bordering on sacriligous (and yet classy as the lady is). A must-see, and perhaps the best Star Trek movie ever!
Kevin M. Williams
Super Reviewer
½
In all fairness this could easily be an unofficial sequel to the Star Trek franchise, a freak alternate universe thingy hehe. A cool satire or parody of the classic sci-fi franchise that mocks and homages whilst being immensely enjoyable to boot. I never really thought I would like a Tim Allen film, he's never been my cup of tea and his films aren't exactly gold dust. This has to be his best and funniest film to date with a terrific Shatner type performance as the Captain. I love the way he oozes around the conventions basking in the glory that is he. The show revolves around him, it would fold without him, grasping at all the attention that comes his way...brilliantly done. The rest of the crew is also created, cast and visualized perfectly. The best for me being Rickman as the tired failed dramatic actor 'Dane aka...'Dr Lazarus'. Alongside Allen with his ego trip Rickman is so so damn hilarious, the way he cringes at all the fans, shuns the ridiculous questions, the attention and rolls his eyes whilst squirming at the geeks that swarm around him. Kudos to the extras that played the geeks and nerds. I dunno if they were actual fans of Star Trek or general sci-fi (I'm guessing they were) but I'll bet they were regulars to conventions. Whoever they were they really nailed the whole image and reputation these type of folk have . The interaction with Rickman's character in one sequence is flippin' comedy gold!. The whole crew line up is excellent but the way the film floats between the in-film TV show and the real situation they are all thrown into is sheer quality. Surely the best humour must be how Allen's crew must adapt and recreate how to actually take command of a real starship, fire torpedoes, land, use communications etc...like they pretend to do in their show. What is really hilarious is how its all so accurate to Star Trek! its so darn close you forget they are taking the piss. I love how Shalhoub tries to explain to Allen that their engine is basically screwed but in the most basic babyish terms he can. The way Rockwell points out that there's a red thingy moving towards the green thingy on the radar screen, and that he thinks they are the green thingy. Also the way he has constant panic attacks as he knows he's the expendable crew member that always bites the dust in these types of situations (redshirt). The only crew/cast member that I didn't think fit was Weaver as 'DeMarco'. I realise the whole point of her character is she does nothing in their show but poor old Weaver does pretty much nothing in the film also. Its odd to see her so sexed up too, the blonde doesn't suit her methinks, I reckon they should of cast more of a bimbo for that role myself (in reality), space slut played by a real life slut of sorts. Mitchell was another character that didn't have as much of the screen time but the sequences where he's trying to fly the ship, especially as they leave space dock, are priceless. I don't think it was too hard to nail the look of this film at tall, it only needed rickety sets and the odd bit of CGI. The 'TV in-show' scenes were nicely crafted to look cheesy, the actual sets for the real ship were also slightly leaning towards cheesy so no problems there. CGI in space was average but that went along with the films vision where as the makeup and prosthetics for the evil 'Sarris' by Stan Winston was both childish yet really cool. He pretty much looked like a missing mutant character from a 'TMNT' kids film, a typical action figure type design which kinda looked like the bad guy from 'Suburban Commando'. Gotta love the way Allen's character slimes his way around 'Sarris' his first time in space yet not realising its all real, yes its obvious humour but come on...its funny stuff. Such a perfect sent up of Star Trek, if I were one of the real Trek cast I probably would have been rather embarrassed to watch it. Its not suppose to look fantastic and its not suppose to be grand or serious in any way obviously. The humour is very silly, childish in parts yet devilishly wry, dark, sarcastic and ironic in others. If you love Star Trek or sci-fi you can't fail to enjoy this. 'Quellek... by Grabthar's hammer... by the Sons of Warvan... you shall be... avenged'
Phil Hubbs
Super Reviewer
A flat-out hilarious mockery of "Star Trek" and how a very similar show fools an entire race of aliens who mistake the show for "historical documents", and need the crew's help to escape a menacing villain. Sure, it tailors to its PG audience at times and comes across as a little corny, but for the most part this is a terrific satire on cult shows that people take way too seriously. Tim Allen is a fine fit as the lead, with Sigourney Weaver proving to possess some versatility in the form of comedy. Alan Rickman, Sam Rockwell, and Tony Shalhoub are all also fantastic. Most of all, this movie is insanely re-watchable, maybe that's just me being I was pretty young when I saw this film, so the nostalgic bridge is definitely still firmly intact.
Dan Schultz
Super Reviewer
Galaxy Quest Quotes
| | |
| --- | --- |
| Fred Kwan/Tech. Sgt. Chen: | That was a hell of a thing. |
| | |
| --- | --- |
| Guy Fleegman: | oh that is just not right |
| | |
| --- | --- |
| Alexander Dane: | By Grapthar's hammer, you shall be avenged! |
| | |
| --- | --- |
| Guy Fleegman: | HEY! Don't open that! It's an alien planet! Is there air? You don't know! |