Gambit
(1965)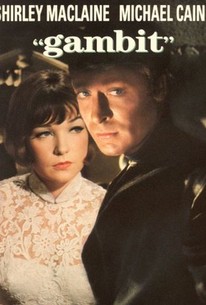 Movie Info
Gambit is a comedic mystery/thriller about an unlucky, but clever burglar (Michael Caine) who hires an Eurasian mute woman (Shirley MacLaine) to help him execute an elaborate scheme to steal an invaluable statue from its owner (Herbert Lom). Of course, once the pair of thieves begin their plan, it goes hopelessly wrong.
Critic Reviews for Gambit
Audience Reviews for Gambit
This is a great crime comedy which pairs Caine with MacLaine, and they are great together, the movie is fun and has a good story, I liked it.
really good is about the perfect robbery where michael caines charactor wants to steal this ornoment of a lady that is dead but its really expensive priceless in fact so he picks this ldy that looks like this guys dead wife and ends up falling in love with her but its a really good film
Film Crazy
Super Reviewer