Game Over: Kasparov and the Machine
(2004)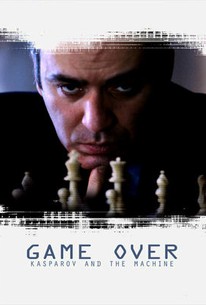 Game Over: Kasparov and the Machine Photos
Movie Info
For the international chess community, it was a blow against humanity when Garry Kasparov -- arguably the greatest chess player the ancient game has seen - lost to IBM's computer, Deep Blue. "It's about the supremacy of human beings over machines in purely intellectual fields. It's about defending human superiority in an area that defines human beings," Kasparov had said prior to the 1997 match. He did not take the loss lightly.
Critic Reviews for Game Over: Kasparov and the Machine
Audience Reviews for Game Over: Kasparov and the Machine
It goes with the conspiracy story when there's a more interesting philosophical story waiting to be told.
Marcus Woolcott
Super Reviewer
½
Man Vs. Machine. The human mind takes on a computer, and fails. As we see, all men succumb to paranoia, stress, confidence and so on. But is everything as it seems? Kasparov certainly presents an interesting case, but given the times, it's only natural we all hate the big company. Sure, it's suspicious that he never got a rematch. That things were kept locked behind closed doors etc. Kasparov clearly has a love for the game, and shows himself to be better than any computer by granting a rematch to his rival from many years before. Unfortunately, the director clearly has a bias and isn't very subtle about it. When the journalist talks about his article, he is shot from a high angle, half-lit and very shadowy. He is the only person shot like this. Making it kind of humorous, but also unfair. It's a great story, and Kasparov has nothing to be ashamed of. After all, he was beaten by just a single game, and the computer took many programmers etc. Certainly sparked my interest in chess.
Luke Baldock
Super Reviewer
½
[font=Century Gothic]"Game Over: Kasparov and the Machine" is a frustrating documentary about the 1996 and 1997 chess matches between Garry Kasparov, human world chess champion, and Deep Blue, IBM chess computer. Kasparov won the first match but lost the rematch. The controversy begins with accusations of IBM fixing the match, even though no evidence is ever presented.[/font] [font=Century Gothic][/font] [font=Century Gothic]The movie is at its best when it is about the computer experts early in the film. And I would have continued to be fascinated if it had followed that line to explore advances in computer technology. Instead, the filmmaker uses the documentary to make an anticorporate screed. There are several hundred worse things corporations do on a daily basis than rig a public relations stunt.[/font]
Game Over: Kasparov and the Machine Quotes
There are no approved quotes yet for this movie.