Game 6
(2005)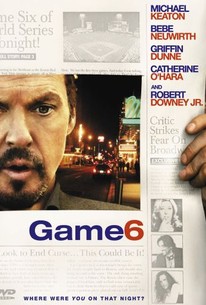 TOMATOMETER
AUDIENCE SCORE
Critic Consensus: Though packed with Don DeLillo's witty dialogue and bolstered by strong performances, particularly by lead Michael Keaton, Game 6 also suffers from uneven direction and overwrought symbolism.
Movie Info
A writer runs an obstacle course of neuroses as he prepares to debut an important new work in this comedy drama. Nicky Rogan (Michael Keaton) is a successful playwright who, after a series of hit comedies, is about to debut a deeply personal drama, and is more than a little nervous about how it will be received. Rogan has learned that notoriously tough critic Steven Schwimmer (Robert Downey Jr.) will be reviewing the opening night performance; a bad notice from Schwimmer sent Nicky's good friend and fellow writer Elliott (Griffin Dunne) into an emotional tailspin from which he's yet to recover. Rogan also has reason to believe that Peter Redmond (Harris Yulin), the play's leading man, may have a serious health problem that could sideline the show. Rogan is being dogged by personal anxieties as well -- his wife, Lillian (Catherine O'Hara), is leaving him, he's having an affair with Joanne (Bebe Neuwirth), who is bankrolling the show, his father (Tom Aldredge) is in failing health, and the life-long Boston Red Sox fan is panicking as his heroes are being trounced by the New York Mets in game six of the World Series. Game Six was the first original screenplay from noted novelist and playwright Don DeLillo; the film premiered at the 2005 Sundance Film Festival. ~ Mark Deming, Rovi
Critic Reviews for Game 6
Audience Reviews for Game 6
Nicky Rogan: I coulda been happy. I coulda been a Yankees fan.  "It's opening night... Let the games begin." I really wish I would have liked Game 6 more. I like the story. A writer has a new play coming out, that is supposed to be his best work. Everyone is informing him that a tough critic is going to tear his play apart and this begins to worry him. As that is going on it's also the night game 6 of the 1986 World Series is being played(most remembered for Buckner's less than impressive play). Nicky is a Red Sox fan, but doesn't hold out to much hope for the Red Sox winning the World Series.  What seems like a really cool story turns out to not make a great movie. At least in the hands of Michael Hoffman. As much as I wanted to like the movie; nothing in the actual movie was able to allow me to like it. The cast is fine with some pretty big names like Keaton, O'Hara and Downey Jr, but the movie has many flaws and the actors aren't able to make the movie anything special.  All in all Game 6 is a pretty joyless experience. It's also very disappointing because I believe it could have been so much more.
Melvin White
Super Reviewer
Starts off as a banal "life in the big city" story that takes too long to set the various pieces on their collision courses. When the deeper meanings do rise to the surface in the climax it feels like too little too late since nearly every preceding scene is lacklusterly timed and without urgency. Michael Keaton and Robert Downey manage to eek out performances that are admirable considering the loose script and overall lack of intellectual depth.
Brett Warren
Super Reviewer
packed with heavy hitting weight in front and behind the camera, this quirky new york piece that looks at living with lowered expectations and failure as a way of life somehow just fails to connect by that much...but still is worth a view.
Kevin M. Williams
Super Reviewer
Game 6 Quotes
There are no approved quotes yet for this movie.