Gamer
(2009)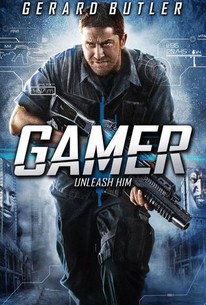 TOMATOMETER
AUDIENCE SCORE
Critic Consensus: With all of the hyperkinetic action and none of the flair of Mark Neveldine and Brian Taylor's earlier work, Gamer has little replay value.
Movie Info
Reality and video games merge in this high-concept sci-fi action thriller from Crank creators Mark Neveldine and Brian Taylor. In the not too distant future, mind-control technology allows humans to control the actions and movements of other humans, allowing reclusive billionaire Ken Castle (Michael C. Hall) to create the ultimate video game. It's called "Slayers," and it's a mass-scale, multiplayer online first-person shooter that's as controversial as it is popular. In the world of gamers, Simon (Logan Lerman) is a rock star; miraculously managing to keep his character alive week after week, he racks up frags like Billy Mitchell jumps barrels. But unlike Mitchell's Mario, Simon's video-game avatar is a living, breathing human being named Kable (Gerard Butler). Defying the odds to keep Kable running and gunning though even the most explosive battles, Simon captures the imagination of a global audience. Torn from his family, thrown into prison, and forced to fight against his will, Kable realizes that his only hope of ever seeing his family again is to somehow escape the game, reclaim his identity, and expose Castle's dehumanizing technology on live television. ~ Jason Buchanan, Rovi
Audience Reviews for Gamer
½
This is a really bad film. The script was so poorly written, Butler's considerable talents were left to wither on the vine.
Christian C
Super Reviewer
When this started I thought it was gonna be crap, the plot sounded naff, it didn't reach the cinema and there have been many films like this before...mainly during the 80's. I was actually surprised, this is not bad to be honest, for an unoriginal plot that harks back to 'The Running Man' its pulled off quite well. The main thing is the fighting sequences which do look pretty good and 'game' like, you could be watching a frag fest like 'Halo' when watching this and it probably would be like this if it was done for real. The 'interactive computer net world' sections of the film are handled well too showing how the controllers use their real life 'players', it does come across as quite believable which really holds the film together. The other game shown in the film being a 'The Sims' style game which is also well done but maybe a tad too much cliched sex going on...but I guess that's kinda real too. The plot is a mix of a few films sure but the director does manage to show other angles to the story which do relate well to today's interactive game world. Butler is also a good choice as the main 'slayer' and continues his good run as a hero but that's it for cast really. Sounds like a real B-movie but its pretty decent and worth checking out, still can't quite beat the classic 'Running man' with Arnie though.
Phil Hubbs
Super Reviewer
An insanely twisted, deranged, sick, wickedly original and sadisticly entertaining action-thriller. It`s hard-boiled, stylish, and frequently wild with lots of ideas and fun to go around. Directors, Neveldine and Taylor continue to branch out with their outragious style and vison with another over the top and engaging action movie. Gerard Butler has great presence as the hero in the film and gives a great performance. Terry Crews is electric, he gives a dark and freaky performance which is something cool and new to see him in. Michael C. Hall is terrific.
Gamer Quotes
| | |
| --- | --- |
| Simon: | Cool, huh? |
| Kable: | No. Not cool. Pay attention to the fucking game! |
| | |
| --- | --- |
| Kable: | What are you- twelve? |
| Simon: | Iâ??m seventeen actually, thank you. This is unbelievable. |
| Simon: | I'm seventeen actually, thank you. This is unbelievable. |
| Kable: | How am I not dead yet?â?? |
| Kable: | How am I not dead yet? |
| Simon: | Because Iâ??m a badass motherfucker. |
| Simon: | Because I'm a badass motherfucker. |