Gamera 2: Assault of the Legion (Gamera 2: Region shurai)
(1996)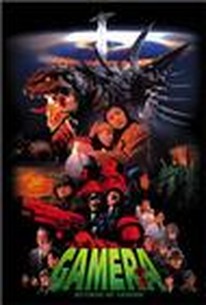 AUDIENCE SCORE
Critic Consensus: No consensus yet.
Movie Info
A freak electrical storm near Sapporo, Japan rains down chaos, leaving Gamera the only hope for the desperate population in this latest installment of the long-running kaiju series. As meteors and lightning crash to the earth, the citizens of Sapporo are shocked to discover that the sky has delivered a deadly alien menace to the planet that aims to wipe out the human race and claim the globe for a frightful race of menacing mutants. While local science instructor Midori Honami (Miki Mizuno) and Colonel Watarase (Toshiyuki Nagashima) combine forces on the ground to combat the powerful invaders, Gamera takes to the sky to face his most challenging foe yet. ~ Jason Buchanan, Rovi
Critic Reviews for Gamera 2: Assault of the Legion (Gamera 2: Region shurai)
Audience Reviews for Gamera 2: Assault of the Legion (Gamera 2: Region shurai)
½
Not since August of last year have I seen another Gamera film and it's about time I revisit my favorite flying giant fire breathing turtle. The last time I saw Gamera he was in a well made reboot that I enjoyed. This sequel is better than most of the entry in the series, but it's a downgrade from it predecessor. Gamera 2 (actually the tenth entry): Assault of the Legion has Gamera saving Japan from rapidly reproducing insectoid creatures know as Legion. You got that summary because that's nearly every single conversation in a nutshell. The conversations are very repetitive. The humans are talking about the same thing and constantly reminding us Legion is the evil creature. The plot is the weakest point because the monsters get the most development and they are barely on screen. Not a single human character is fleshed out despite taking up 9/10 of the film. This film carries the lack of logic associated with the series as only one time does a military soldier uses his gun against a monster. The plot is serviceable, but the humans repetitive conversations get boring and is very light on actually having monsters on screen. As usual with almost every Gamera entry the monsters are the highlights. Gamera costume looks good and manage to make a giant turtle look cool. As always Gamera does something that sticks with you weather good or bad. This time Gamera was able to create a huge fire blast by opening up his chest. How does that even work? The costume for the Legion creature was okay. It looks like a combination between a small centipede and crab. The movement of Legion was also clearly limited resulting in lack of creativity for the fights. The CG was sub-par for the smaller stuff like a fire-ball or tiny group of insectoid monsters. It's the larger stuff like Gamera flying that look dated. What about the monster fight? Fun with plenty of explosions, but way too short. Legion costume restricts movements preventing the creatures to get close and hit one another. The fights mostly consist of projectile attacks which destroy a good chuck of the environment. Even just throwing around projectile can get boring. Gamera 2: Assault of the Legion contain repetitive conversations and lack of actual monsters on screen guarantees those who do not sees monster flick will enjoy it. I only recommend this for the fans of the series and fans of monster flicks because they might tolerate the negative to see some monster action. Otherwise just skip it.
Caesar Mendez
Super Reviewer
½
If "Guardian of the Universe" was "Batman Begins", then this film is "The Dark Knight". It did not seem possible, but this movie manages to be infinitely better than its predecessor, which was already a great film. The visual creativity is astounding, using a variety of techniques from models, monster suits, digital effects, to even stop-motion. The story combines spectacle with human drama in way that is seamless and engaging, a great feat for a movie of this genre. Legion makes for a great foe, he constantly surprises with his different abilities. Even if you are not a fan of japanese monster flick, this should still be checked out because it truly is an exhilarating experience from beginning to end. A perfect monster movie that can actually hold a candle to the original Godzilla movie.
Christopher Heim
Super Reviewer
To put it mildly, Gamera 2: Assault of the Legion has to be the most unique of all giant monster films I have seen, and that is saying something. G2 (as it is commonly called) does something that I have rarely seen done right in any monster film: it blends emotion, horror, and science fiction together beautifully. I know that most monster films contain elements of the latter two, but none have done so in a way that is like G2. Being directed again by Shusuke Kaneko, G2 has the same directorial feel as the previous Gamera film. All of the same elements are here, but advanced a bit. Mainly with the characterization and emotional level of the title character Gamera. There is a scene in this film that will, if you commit to the film, make you be on the edge of your seat and will give the sensation that the title character has died (I am not spoiling anything. We all know that this is a trilogy). I will admit that I was holding my breath and was worried for this giant turtle when I thought that he was done for. It was then, when I was thinking of the direction, that Kaneko finally done what the original 'King Kong' had done: we cared and loved this Guardian of the Universe. That is my thing with the entire Gamera trilogy that makes it so good: we are lead to care about a character we would never truly care about. We want Gamera to go on. We know that he is here for a reason. We know about the people that are attached to him. We also know that he is probably as human as we are. If there is one difference anyone can take from Gamera in this film, it is that he is starting to loose sight of protecting people, and wanting to keep his idea of destroying his enemy (which I will get to in a bit) in mind. How many of us can relate to that? Loosing focus of what is important to satisfy a different matter? That is why this film works on an emotional level: we start to sympathize with this giant, fire breathing Turtle. Another aspect of why this film works is with the horror and science levels. Kaneko in this film knows how to have great 'jump' scenes and how to make the science aspect really get to you. As far fetch as this film gets at times, it does decide to creep on you a tad bit. Plus, with the horror element, Kaneko does plan out the shadows and the darks to create suspense that, when unleashed, does have a rather powerful impact. Along with the use of blood in one unforgettable scene, this film nails the drama of the monsters attacking the humans. Unlike the first and third film, this one mainly focuses on different characters and little on the three main characters that we learned about in the previous film. Yeah, they all have short scenes throughout this film, but the two main stars Toshiyuki Nagashima and Akiji Kobayashi, do carry this film on their shoulders and do a rather decent job at acting out their roles. While they are good, it is, to me at least, rather sad at how forgettable they are. I mean, when I think back on the entire Gamera Trilogy, the characters I think of are the three from the last film and most of the cast from the third film. Here, I just don't. Maybe they just don't stick out to me or something else. The last thing I need to talk about is the creature Legion that serves as Gamera's main enemy. Out of all of the creatures that have been made in Japanese cinema, it is a shame that Legion is not remembered that much for Legion is one of the more interesting characters. Taking it's name from the legendary Biblical story of the demon Legion, Legion is basically the creature we have been wanting and waiting for: original, dangerous, and impressive to look at. Observing the suit that must have been built for this creature, I am impressed at how much time it must have took them to build and use that suit. In the end, this is a decent film with some flaws. The main flaws include the lighting in some sequences, the actors not being memorable, and the pacing in some scenes are way off. Sometimes the film goes by fast, sometimes slow as hell. But, regardless, this decent film is what it is: a set up to the final installment in the tale of the Guardian of the Universe: Gamera.
Zach Brehany
Super Reviewer
Gamera 2: Assault of the Legion (Gamera 2: Region shurai) Quotes
There are no approved quotes yet for this movie.