Gamera 3: Revenge of Iris
(1999)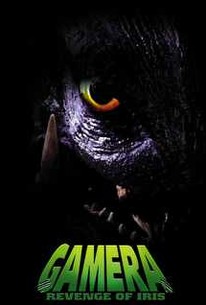 AUDIENCE SCORE
Critic Consensus: No consensus yet.
Gamera 3: Revenge of Iris Photos
Movie Info
Daei studio's answer to Toho's wildly popular Godzilla, Gamera -- a monstrous fire-breathing turtle -- appeared numerous films from 1966 until 1971. In 1995, he made his triumphant return with Gamera Daikaiju Kuchu Kessen (Gamera: The Guardian of the Universe) which featured slick new special effects, a smart script by Kazunori Ito, and sharp direction by Shusuke Kaneko. Gamera 3 opens with scientist Mayumi Nagamine (Shinobu Nakayama) finding the corpse of a Gyaos in a remote Fillipino village. Cut to teenage girl Ayana (Ai Maeda), who is forced to live with her relatives in a rural village near Nara after Gamera killed her parents. One day, a gang of bullying classmates forces her to venture into a cave that supposedly houses a demon. Instead, she finds a rock that lights up at her touch. Later, a tentacled baby beast emerges from an adjacent egg; Ayana cares for it and names it after her dead pet cat, Iris. This, she surmises, could be her means of vengeance against Gamera. Meanwhile in Tokyo, Mayumi attends a meeting of the Monster Damage Control Committee. There she meets the creepy government astrologer Mito Asakita (Senri Yamasaki) and her simpering colleague, an extraordinarily creepy game designer (Toru Tezuka). Just as the meeting is about to commence, a Gyaos attacks Tokyo with Gamera in hot pursuit. Soon, a train station is blown up, glitzy buildings are trashed, and Gamera is dubbed enemy number one by the government. Back in Nara, Ayana finds the desiccated shells of animal as her pet monster has grown to the size of a house. Yet in order for it to reach its full strength, it fuses with its adoptive mother in a manner that is incredibly slimy. Later, Asagi Kusanagi (played by Steven Seagal's daughter Ayako Fujitani) -- the protagonist in the previous two Gamera films -- returns from studying abroad to help Mayumi and Gamera thwart this new villain, Iris. This film was screened at the 1999 Toronto Film Festival. ~ Jonathan Crow, Rovi
Critic Reviews for Gamera 3: Revenge of Iris
All Critics (3) | Fresh (2) | Rotten (1) | DVD (1)
Benefitting from more substance than usual along with excellent effects, the film represents everything enjoyable about the genre, and provides first-rate monster action
One of the finest Japanese monster movies... nuanced in its story and character, bold in its visual dynamism.
Audience Reviews for Gamera 3: Revenge of Iris
½
The final entry in the Gamera Trilogy (Guardian of the Universe, Attack of Legion) and it is not only the best movie in the trilogy but also one of the greatest monster flicks ever made. This movie breaks all the stereotypes of japanese monster flicks with a very grim tone, thought-provoking plot, and deep human characters. The effects that the monster fights have on cities and people is at the forefront of the story. Seeing people get crushed and blown away while Gamera fights two Gyaos creatures is shockingly unusual in a monster flick. This film also has the best Gamera suit, which makes him look very mean and scary. Iris is probably Gamera's greatest foe, he is just pure evil. The effects are just as stunning as ever, and the final battle between Gamera and Iris is probably one of the bloodiest monster battles ever. This movie is certainly not for kids. Unlike the previous two flicks were they wrapped everything nice and tidy, the ending to this flick is dark and pretty depressing. However, that's what makes this film so great, its refusal to leave the viewer with easy resolutions. This film takes the giant monster movie genre into new levels of cinematic art and sophistication.
Christopher Heim
Super Reviewer
Gamera 3: The Awakening of Iris features some of the best special effects ever seen in a kaiju film to date and also has an extremely concrete plot instead of some aliens trying to take over the world. It's good to see the film link up with the previous installments (Gamera: Guardian Of The Universe, 1997 and Gamera 2: Advent Of Legion, 1996) and bring some continuity to the film by referring to the original Gyaos attacks. And we finally get to see what it's like to be a victim of a giant monster attack in some flashbacks to 1995. But the major attraction of this film is the awesome fight sequence between Gamera and two Gyaos in Tokyo. Fireballs reign down upon the city in horrific fashion as people run to try and flee but to no avail as blood, guts, spit and ass go flying. It really does bring the horror of giant monsters attacking each other to life. We may have ridiculed the cheap miniature cities of the past but finally we can actually feel for the people being crushed and blown to pieces. And the worst thing is the monsters don't even care - they're too busy bashing each other. While I know that a lot of people will probably think I'm on something, because no Japanese monster movie could be this good, such people really don't deserve to watch good movies, and should go back to pretending to like whatever their magazine tells them to.
El Hombre Invisible
Super Reviewer
Gamera 3: Revenge of Iris Quotes
There are no approved quotes yet for this movie.