Gang Tapes
(2002)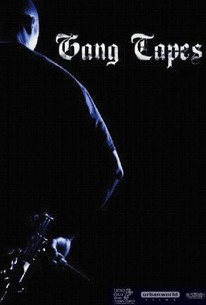 AUDIENCE SCORE
Critic Consensus: No consensus yet.
Movie Info
A normal kid growing up in a bad neighborhood is drawn into a life of crime in this mock-documentary, which purports to be the videotaped document of a 13-year-old boy from Watts who grabs a camera while his friends carjack a group of tourists and begins taping what is going on around him. Kris (Trivell) is the son of a single mother (Sonja Marie) who is strong and caring, but is overworked and isn't able to keep a close watch over her son. Kris falls in with Alonzo (Darris Love), an older teenager who runs with a gang that deals drugs and dabbles in armed robbery. As Kris begins to develop a taste for the criminal lifestyle, Cyril (Darontay McLendon), an older member of the gang, is sprung from jail and returns to the streets. Alonzo may be a junior-league gangbanger, but Cyril is the real thing, and as Kris becomes a full-fledged member of the gang, under Cyril's tutelage he and his friends advance from dope deals and petty theft to drive-by shootings and worse. Director Adam Ripp and screenwriter Stephan Wolfson based their screenplay on extensive interviews with members of L.A. street gangs, their relatives, and L.A.P.D. officers who've worked with gangs.
Critic Reviews for Gang Tapes
Audience Reviews for Gang Tapes
Gang Tapes is an ultra realistic look at the gang lifestyle and how it hooks the urban youth. It's weird seeing this so soon after seeing Snow on Tha Bluff as they are basically the same from a technical standpoint, using a handheld camera, and with their premise. Both use a robbery of tourists in order to get the camera which will present their hood lifestyle. I thinks it's fair to say that Snow on Tha Bluff used Gang Tapes as inspiration.  This follows 13 year old Kris who is friends with some local gangsters. The day one of the most respected and feared gangsters gets out of jail, one of their boys is killed. Kris asks to ride with them as they look to get revenge. After some initiations, getting the shit beat out of him and shooting someone, he's in. From there we watch as the gang lifestyle of Kris catches up to him early. While not for everyone, Gang Tapes is about as real as it gets when it comes to the hood genre of films. It doesn't shy away from everything and the filmmakers did extensive research and interviews in order to make the film feel as real as possible. Mission accomplished.
Melvin White
Super Reviewer