Gangs of the Dead
(2006)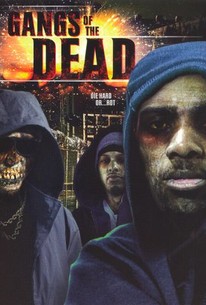 AUDIENCE SCORE
Critic Consensus: No consensus yet.
Movie Info
When a meteorite containing a zombie-spawning spore crashes in the City of Angels, the survivors of the impact must put aside their differences in order to fend off the flesh-eating masses in this tale of urban apocalypse starring Phantasm's Reggis Banister. As two rival gangs converge on an empty Los Angeles warehouse, the stage is set for violence and mayhem. But this isn't any ordinary gang fight, because these thugs have an unearthly taste for human flesh. Now, if they have any hope of fending off the advancing horde of the undead, the toughest gangsters in the neighborhood will have to put their differences with the LAPD aside long enough to aim for the head and formulate a solid escape plan.
Critic Reviews for Gangs of the Dead
All Critics (2) | Fresh (0) | Rotten (2)
After an enticing opening, there's a looming sense of bait-and-switch as the rest of the flick degrades into the land of Ho-Hum.
The laughs here could have been planned, instead of unintentional, and embarrassing...
Audience Reviews for Gangs of the Dead
Spoilers Ahead.....Maybe? Gangs Of The Dead was alright.It's not a movie I'd ever watch again or buy & I'm not sure if I'd recommend somebody go see it (Maybe if NOTHING else is on) I definitely wasn't expecting to like it at all but I did & I have no idea why.It started off pretty good (That meteorite striking the bridge did look pretty cool) but fell off towards the end.I still enjoyed watching it though.My main thing with Gangs Of The Dead is that you would think a bunch of gangbangers would be able to band together (With the police as well) No matter how much they hate each other & try & fight the zombies trying to get into the warehouse to eat them alive.I think any group of people would at a time like this.Gangs Of The Dead isn't a movie I'd go out searching for but if you're able to see it for free, Why not?
Brody Manson
Super Reviewer
As bad as you would think.
Gangs of the Dead Quotes
There are no approved quotes yet for this movie.