Gangster No. 1
(2000)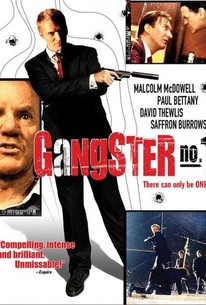 Movie Info
In London's Soho section in the 1960's, a leading gangster boss teaches his ambitious young apprentice the secrets of his trade.
Critic Reviews for Gangster No. 1
Audience Reviews for Gangster No. 1
½
[img]http://images.rottentomatoes.com/images/user/icons/icon14.gif[/img]
Directors Cat
Super Reviewer
½
Gangster 55: I'm Superman! King fucking Kong! I can pick you up and throw you a million miles. I'm number one.  "It's not who you know, it's who you kill." I'll admit it did take me awhile to warm up to Gangster No. 1, but it did turn out to be a really good English Gangster film. What won me over were the performances by Paul Bettany, Malcolm McDowell and David Thewlis. Each of those actors gave an outstanding performance. The movie chronicles the rise and fall of Gangster No. 55, played by Paul Bettany when he's young and Malcolm McDowell when he's old. Both actors really sell the character and make the Gangster a very interesting character. I always enjoy watching Malcolm McDowell and he gives a sinister performance. He also does an extremely good voice over throughout the entire movie. Bettany is equally sinister and really makes the movie. Gangster No. 1 or as I prefer, The Gangster with No Name, does have it's flaws though. Many times the film comes of as an exercise in style of substance. It uses a lot of different editing techniques that I don't think helps the movie at all. If anything, I believe it hurts it. Like I said it did take me awhile to get into the movie. It didn't really become captivating until half way through, but from there on out it really is a great movie. Honestly I almost turned it off a few times in the firs 45 minutes, but I'm really glad a gave it a shot. It's not going to be a gangster classic by any means. It borrows from a lot of previous films, but in the end it does separate it's self from all of them. It's a cool, stylistic and well-acted movie. 
Melvin White
Super Reviewer
½
I liked it for the extraordinary talents of Paul Bettany, who turned in one outstanding performance, as usual. It's an otherwise muddled mess the latter fourth of the film, however, when 25 years later an aged Bettany morphed into into Malcolm McDowell?? The logic ot that totally messed up the film for me. But, all in all, Bettany makes it worth the watch...because, let's face it...he is the bomb! :)
Cynthia S.
Super Reviewer
Gangster No. 1 Quotes
There are no approved quotes yet for this movie.