Gantz
(2011)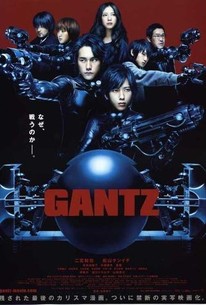 AUDIENCE SCORE
Critic Consensus: No consensus yet.
Movie Info
NEW PEOPLE and NCM Fathom are bringing the world premiere of GANTZ to movie theaters nationwide for a one night live event on Thursday, Jan. 20 at 8 p.m. ET/ 7 p.m. CT/ 6 p.m. MT/ 8:30 p.m. PT (tape delayed).This live-action feature, based upon the popular Japanese manga and anime series, is the ultimate survival game. It will be English over-dubbed exclusively for this big screen event. Following the feature, the two stars, Kazunari Ninomiya and Kenichi Matsuyama will participate in an exclusive live interview that can only be seen at this event.
Critic Reviews for Gantz
All Critics (2) | Fresh (1) | Rotten (1)
Sato retained the surreal atmosphere of both the manga and the anime, although he almost completely excluded the sexual aspects and many of violent ones as well.
Despite a charming young cast of leads, the live-action Gantz is an ill-paced array of stops and starts with some okay special effects that never quite reaches any potential it may have.
Audience Reviews for Gantz
½
I'll admit that I've never read manga or seen the anime series of the same name so I can't speak for those who have. For those who have no experience or knowledge about Gantz, I can speak for and say it's a decent movie. Gantz is about two teens who wake up in a room dominated by a mysterious black sphere that sends them to hunt down and kill aliens hiding on Earth. The story has interesting ideas and goes into interesting directions. The pace is slow as it does take a while for the story to pickup again and it doesn't help that certain scenes were longer than necessary. Characters are interesting despite most of them not having proper development. The lack of character development is most noticeable when you don't care about the love interest dying. The important thing is that the good outweighs the bad, you'll be invested in learning about Gantz and watching the characters in this strange reality that you'll be sucked into the atmosphere of the movie. The story might have flaws, but they don't take away to much from the enjoyable movie. The cast acting is at best average as I never felt they never meant what they said. They may be likable and seem to fit their role correctly, they don't deliver enough emotions into there lines. The special effects on the other hand are appealing and cool looking at the same time. The special effects in Gantz aren't at Hollywood standard of CGI, but they definitively look cool and aren't overuse. I doubt you'll find a man going up against a statue who has hundreds of arms. The production design look good and the cinematography is well executed. While nothing in particular will stand out from this movie in this genre, it doesn't make the movie any less watchable. Gantz is a visually appealing movie with a atmosphere that makes up for its story flaws. Gantz is certainly worth a watch, though it will required your patient for it to pay off.
Caesar Mendez
Super Reviewer
½
Despite the fact that the characters are frequently frustrating and inept (just shoot the freakin' gun!!!), this is a pretty entertaining anime adaptation. Sort of a dark sci-fi film, with the recently deceased being returned to life to fight against odd alien invaders. The pacing could use some work, but overall, I liked it. You don't really have to be a fan of the source material to get some entertainment out of this.
½
In contrast to the anime this live action adaptation has a fast pacing. Surprisingly there is plenty of bloody violence and gore peppered throughout the film, sticking close to the treatment as in the anime. Undoubtedly a special effects extravaganza full of action. "Gantz" is ultimately half a film, and I am looking forward to the concluding episode to wrap up the open questions posed here.
Gantz Quotes
There are no approved quotes yet for this movie.