The Garbage Pail Kids Movie
(1987)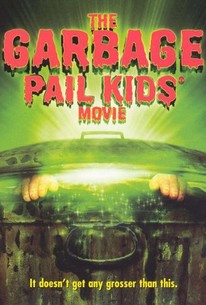 The Garbage Pail Kids Movie Photos
Movie Info
An antique collector and his assistant discover a strange garbage can from outer space and accidentally unleash a slew of disgusting creatures known as the Garbage Pail Kids. This comic fantasy, which was pulled from circulation after protests from parents' groups, was based on a short-lived toy trend.
News & Interviews for The Garbage Pail Kids Movie
Critic Reviews for The Garbage Pail Kids Movie
Audience Reviews for The Garbage Pail Kids Movie
The Garbage Pail Kids is without a doubt the #1 worst film ever made in history. It isn't a comedy, or a fun movie, I am not kidding you my friend owns this (he hates it too) and we used the disc to cut pizza and used it for a bunch of other crap, because the movie is shit! The plot is a piece of shit, as a kid stumbles upon a trash can and a bunch of disgusting little puppets who the creators thought were cute but acttually are disgusting little fucks!!! They make jokes about crap, and toilet humor, and farting, and if you like that crap, may god have mercy on your souls. I mean come on, one is a alligator, a slobbering pig tail girl, and slick haired farter, and worst of all the worst of them all... Theres one of them in a superhero outfit with zits on 98% of his face and is a fire haired freak and who is a four eyed creepy kid who randomly pisses himself. The real actors are terrible also, espically the kid actors. The puppets are so creepy and they sing songs that will chill your bones, and this is supposed to be a kids movie. I will hate this movie for as long as I live and its not funny, or cute, or cool, or smart, this a terrible, disgusting, worthless movie that I will hate until the day I die.
Jim Careter
Super Reviewer
½
The most amazingly stupid, gross, ridiculous kids movie I've ever seen, I think. Almost so bad it's good, but then it fell back to bad again towards the end. See this for yourself if you dare.
I was expecting this to be trashy and sort've in the same reign as Toxic Avenger, but it is a complete failure. It's not funny, just really disgusting and overly campy to the point where it's just revolting. The look of it is just terrible, it feels like it was made on the budget of an after-school special. This doesn't even work on a sarcastic level, it's just revolting and corny beyond belief.
Conner Rainwater
Super Reviewer
The Garbage Pail Kids Movie Quotes
| | |
| --- | --- |
| Capt. Manzini: | Losing is relative, my dear boy. |
| | |
| --- | --- |
| Foul Phil: | My tummy hurts! |
| Valerie Vomit: | What did you eat? |
| Foul Phil: | Everything! |
| | |
| --- | --- |
| Foul Phil: | I'm Foul Phil! Daddy! |