Gas Food Lodging
(1992)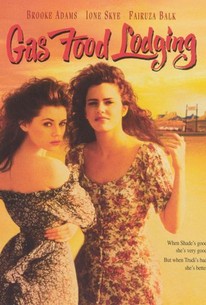 Movie Info
Based on a novel by Richard Peck called Don't Look and It Won't Hurt, Allison Anders's melodramatic coming-of-age tale Gas Food Lodging takes place in Laramie, NM, a small town right off the highway. Nora (Brooke Adams) is a truck-stop waitress who lives in a trailer park with her two teenaged daughters, Trudi (Ione Skye) and Shade (Fairuza Balk). While Trudi sleeps around and defies her mother, Shade spends her time at the local cinema and wishes she could have a dad like a normal family. One day, Trudi hooks up with a visiting geologist (Robert Knepper) and spends a magical evening in a cave with him. However, he turns up missing and Trudi finds herself pregnant. Meanwhile, Shade's romantic advances are rejected by Darius (Donovan Leitch), but she finds something new with film projectionist Javier (Jacob Vargas). Shade's attempts at finding a husband for her mom are unsuccessful, but Nora ends up meeting satellite TV installation man Hamlet Humphrey (David Lansbury). Features a cameo appearance from Dinosaur Jr. frontman J. Mascis, who also wrote the original music.
Critic Reviews for Gas Food Lodging
Audience Reviews for Gas Food Lodging
This is an old favourite of mine. I upgraded from VHS to DVD quite some time ago, but never quite got around to rewatching it until now. What can I say? This is one of those rare movies that I think I enjoyed more over time rather than think it is not as good, or like it as a nostalgia piece. This is for sure one of Fairuza Balk's best roles - she is an actress I think could have gone a long way, I am surprised she wasn't more successful. She is perfect here as Shade, living in a caravan park with her mother and her troubled older sister, Trudi (Ione Skye - also a good role for her). I think the good thing about rewatching it now is that I can identify now with all three of the women, rather than just the daughters. These are very well written women characters, and this film has a lot of depth. Donovan Leitch is also excellent here as Darius, and also the guy who plays Javier (I am unsure who he is). The rest of the men don't fare so well here, but this really is a movie for and about woman. Highly recommend it and have changed my original score of 4 to 5!
Nicki Marie
Super Reviewer
Can't remember it too clearly as it has been a few years but I remember liking both Brooke Adams and Ione Skye.
John Ballantine
Super Reviewer
Excellent indie outing with some outstanding performances.
Anthony Valletta
Super Reviewer
Gas Food Lodging Quotes
There are no approved quotes yet for this movie.