The Gate
(1987)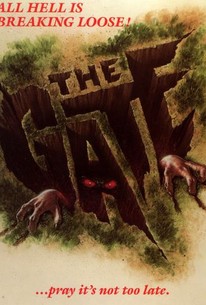 Movie Info
During a boring, routine weekend, young Glen (Stephen Dorff) and his best buddy, Terry (Louis Tripp), decide to explore Glen's backyard. Before long, the boys come across a strange hole in the ground which yields all manner of sinister prizes. Consulting one of his heavy-metal record albums, Glen comes to the correct conclusion that the hole is actually the Gate to Hell. Offering a sacrifice in the form of a dead dog, Glen further opens the portals of Hades, through which pass some of the most hideous demons imaginable. A surprise box-office hit, The Gate yielded a sequel, predictably titled Gate II.
News & Interviews for The Gate
Critic Reviews for The Gate
Audience Reviews for The Gate
The Gate is a fun, entertaining horror film that relies on a good cast of actors and equally good story to deliver effective chills. This is one of those films that manages to take a simple idea, and build something very engaging using a proven formula. The result is an exciting movie that genre fans will enjoy, and it is one of the most surprising gems that I've seen from 80's horror cinema. Of course, the film at times fathers, but overall it's well executed horror film that is engaging from start to finish. I would say that this is one of those films that should be seen during the Halloween season. This is a fun film that boasts a terrific cast of actors, including a young Stephen Dorff. Overall, it has its flaws, but it is a movie that is one of the better 80's horror films, and if you love old fashioned horror, then check this one out. This is a blend of supernatural horror and demonic horror that succeeds on many levels to be a memorable horror film. Some parts could have been done better, but it's nonetheless a well directed effort that will satisfy horror fans looking for a truly engaging film. The story is very well thought out and delivers on many tense moments of fun, memorable horror. The Gate may not be the greatest film of the 80's horror canon, but as it is, it's one that manages to deliver exciting visuals with a good story and effective performances from its cast. If you come across this film, give it a shot, you won't be disappointed as it manages to be a highly memorable horror yarn from start to finish.
I'm not going to call this a good movie by any means, but it's fun and imaginative and carries a strong sense of nostalgia about it. Oddly difficult to hate.
Drew Smith
Super Reviewer
½
A gateway to Hell opens in a suburban kid's backyard. Horror aimed at preteens and young teens, and it's decent on that level; the claymation mini-demons are memorable.
The Gate Quotes
There are no approved quotes yet for this movie.