Gates of Heaven
(1980)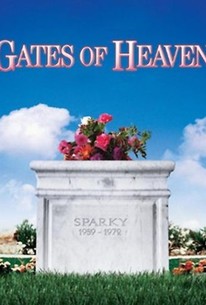 Movie Info
Gates of Heaven is a perversely enjoyable film about the American funeral industry. Oh, wait, we forget to tell you. The services shown herein are pet funerals. Anything can happen in Southern California, but even longtime residents of that cloud-cuckoo land may not be prepared for the unctuousness of the funeral directors and the obsessive grief of the dear departed's loved ones. The film zeroes in on two pet cemeteries: one thriving, one unsuccessful. Wisely, filmmaker Errol Morris does not editorialize, nor does he betray any condescension towards the real-life people seen in Gates of Heaven.
Critic Reviews for Gates of Heaven
Audience Reviews for Gates of Heaven
½
A simple film that proves you can make a documentary about just about anything, and even if Morris doesn't seem that eager to tell us any of this, he finds a strange beauty in the mundane, especially as he shows us how someone's dream curiously became someone else's family business.
Carlos Magalhães
Super Reviewer
½
An original documentary that takes aim at a pet cemetery and the day-to-day operations that go on as well as the strange people that run the place. While occasionally boring and irrefutably slow-moving, there is no denying the well-rounded, subtle slam and quiet mocking of these weird, weird people who took their pets' lives way to seriously and need to get back to reality ASAP. What makes this thing worthwhile is the people being filmed, who think this is a totally straight, serious documentary that they are being apart of, not knowing for an instant that the ridiculous things they say and how they act (everybody wants to punch the "motivation" guy, no one will deny that) are going to be turned against them. It sounds rather cruel, but director Errol Morris never cuts in or makes any obvious finger-pointing accusations or is seen laughing behind the camera - he lets the people do the talking, and the result is something both at times uproarious while at other times just very, very sad. Definitely a unique film, one that does tend to plod along, but it is still worth a view just due to Morris's ability to dig out all the weirdness from a piece of California.
Dan Schultz
Super Reviewer
I don't get what the hype is all about. I found the story about the making of the documentary WAY more interesting than the documentary itself.
Ken Stachnik
Super Reviewer
Gates of Heaven Quotes
There are no approved quotes yet for this movie.