Gattaca
(1997)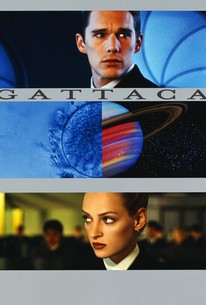 TOMATOMETER
AUDIENCE SCORE
Critic Consensus: Intelligent and scientifically provocative, Gattaca is an absorbing sci fi drama that poses important interesting ethical questions about the nature of science.
Movie Info
In a futuristic society where commerce has overridden more humanistic concerns, the rich and successful, eager to obtain physical and mental perfection, have taken to genetically engineering their off-spring. Such lab-created babies are known as Valids, while those conceived in the normal, loving fashion are In-Valids and are considered second-class citizens at best -- especially if they have birth defects. Vincent (Ethan Hawke) is an In-Valid while his brother Anton (Loren Dean) is a Valid. The former brother is short, sickly, and bespectacled, while the latter brother is handsome, healthy and born to succeed. But though Anton seems close to perfection, he lacks the emotional flaws, passion, determination, desire and faith that motivate Vincent, whose strongest desire is to become a space navigator for the Gattaca Aerospace Corporation and travel on an upcoming mission to the moons of Saturn. Unfortunately, his birth status and a heart defect, relegate him to menial jobs. Unwilling to abandon hope, Vincent determinedly visits DNA broker German (Tony Shalhoub) who is able to create false identities for similar In-Valids. It is not an easy transformation but eventually Vincent -- who thanks to the genetic contributions of paralyzed Valid Jerome Morrow (Jude Law), becomes Jerome while the wheel-chair bound donor becomes Eugene -- finally enters Gattaca for training. There he encounters a beautiful Valid pilot, Irene (Uma Thurman) whose defective heart prevents her from flying. Irene's plight is a fate she passively accepts whereas Vincent is willing to oppose and fight for what he wants. Meanwhile, an increasingly complex relationship evolves between Vincent/Jerome and Jerome/Eugene. Set in an oppressive, bureaucratic and chillingly plausible early-21st-century world, Andrew Niccol's sci-fi thriller differs from others in its focus on a morally ambiguous world and on characters rather than gizmos, technobabble and special effects.
Critic Reviews for Gattaca
Audience Reviews for Gattaca
An intelligent, rather grounded and realistic look into a near future when parents can choose the genetic makeup of their kids, and the story of a man fooling the system of only the perfect candidates making their way in life and career. Good acting, interesting characters, a cool, very subtle set design and exciting plot make this utopian/dystopian thriller a gem of the genre. The thriller elements are subtle at first but make for a few really exciting sequences towards the end. The wonderful soundtrack completes the picture, always striking the right chords. Especially the ending is very strong and comes up with one of the most beautiful last lines ever.
Little known film with big actors and an intriguing story-line.
[img]http://images.rottentomatoes.com/images/user/icons/icon14.gif[/img]
Directors Cat
Super Reviewer
Gattaca Quotes
| | |
| --- | --- |
| Detective Hugo: | I was also in the Slums of Beverly HIlls. |
| | |
| --- | --- |
| Vincent Freeman: | Of course, they say every atom in our bodies was once part of a star |
| Vincent Freeman: | Of course, they say every atom in our bodies was once part of a star. |
| | |
| --- | --- |
| Vincent Freeman: | For someone who was never meant for this world, I must confess I'm suddenly having a hard time leaving it. Of course, they say every atom in our bodies was once part of a star. Maybe I'm not leaving... maybe I'm going home. |
| | |
| --- | --- |
| Jerome Morrow: | I got the better end of the deal. I only lent you my body - you lent me your dream. |