The Gauntlet
(1977)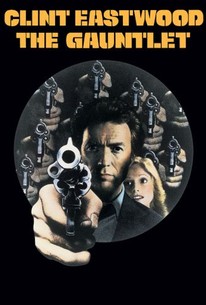 TOMATOMETER
AUDIENCE SCORE
Critic Consensus: Eastwood has a good time playing a dolt in the surprisingly funny Gauntlet, which otherwise has the typical Clint trappings.
Movie Info
Clint Eastwood is appropriately flinty as Ben Shockley, an Arizona cop sent to safely extradite prisoner "Gus" Malley (Sondra Locke). She's to testify in a police-corruption trial, a fact that has made her the target of certain high-ranking cops. Once his superior Josephson (Pat Hingle) is killed, Eastwood is completely on his own. Set up for extermination himself by crooked police official Blakelock (William Prince), Ben is compelled to lead Gus through an unbelievable police gauntlet, protected only by an armor-plated bus and his wits. Contrary to the film's ad campaign, Sondra Locke does have some clothes on during the climactic shoot-out. Stretching credibility to the breaking point--actually that point breaks wide open halfway through--The Gauntlet is redeemed by director Eastwood's usual uncanny sense of pacing, timing and energy.
Critic Reviews for The Gauntlet
Audience Reviews for The Gauntlet
½
Clint Eastwood is one of Hollywood's most bad assed actors. Along with Charles Bronson, he has carved a career out of playing some memorable tough guys. In The Gauntlet he plays a no nonsense cop who escorts a prisoner and protect her from the mob. This is an exciting and well crafted film that is action packed, and humorous throughout with direction from Clint Eastwood, who keeps you entertained due to a well written script and effective performances from Eastwood himself and lead actress Sondra Locke. This is a worthwhile film for Eastwood fans, and is sure to thrill old school action fans. The Gauntlet is a solid picture that is entertaining from start to finish. Clint Eastwood is great here and ands he proves once again that he is an icon of cinema. When a film lover thinks tough guys, Clint Eastwood is usually at the top of the list. His acting is always entertaining, and his performance is always something to watch. He may have kind of been typecast as a bad ass in Hollywood, but he never disappoints. This is one of the finer films of the 1970's starring Eastwood, and aside from the Dirty Harry films, covers similar ground, but reinvents the formula quite a bit. The Gauntlet is fun entertainment that you shouldn't pass up and if you love straight forward action, then this is a film worth checking out. The Gauntlet is one of the most memorable action flicks of the 70's, and with a smart script, great cast and wonderful direction, it is among Eastwood's best directed features of that era.
An absurdly entertaining action-thriller. A slam-bang entertainment ride that's filled with enough action, suspense, comedy and surprising romance for two films. An explosive and over the top adrenaline-rush from start to finish. Clint Eastwood stars and directs this hard-edged action film and brings on yet another great performance, totally departing himself from Dirty Harry and into and new and exciting police character. It`s just good old explosive fun. Eastwood and Locke are tremendous.
Burnt out cop Clint Eastwood is sent to extradite a federal witness and finds himself targeted by both the mob and his own police force. After the success of Dirt Harry, Clint made the tough guy cop thriller his bread and butter and The Gauntlet is a Harry sequel in all but name only. He is the typical laconic booze hound and the witness is the usual mouthy, street savvy hooker with a heart as they brave a constant hail of bullets. The plot is a little thin, the story being essentially one long chase sequence and Sondra Locke (who was always kind of like Clint's own Yoko) is not the best actress and actually comes across as kind of annoying. You can always rely on Eastwood however and this is his show all the way. His direction is rather workman like but efficient enough and it all reaches a suitably lead riddled climax. Hardly Eastwood's best but still a solid 70s action thriller that will appeal to his fans.
The Gauntlet Quotes
There are no approved quotes yet for this movie.