The Gay Desperado
(1936)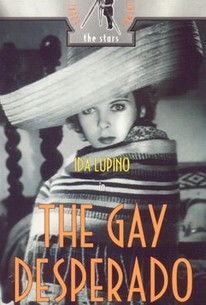 AUDIENCE SCORE
Critic Consensus: No consensus yet.
Movie Info
The Gay Desperado is a 1936 musical lampooning the then-popular gangster pictures. Leo Carrillo plays a genial Mexican bandit, Pablo Braganza, who gets nowhere until he and his amigos begin studying gangster techniques -- courtesy of Hollywood movies. Selecting kidnapping as his crime of choice, Pablo snatches opera star Chivo (Nino Martini) simply because he likes his singing. But the bold bandito gets in over his head when he abducts a troublesome heiress, Jane (Ida Lupino), and her nerdy fiancé, Bill (James Blakely). Chivo hopes to extract a huge ransom for Jane's return, but the girl is more trouble than she's worth. All ends happily when Pablo engineers a romance between Jane and Chivo.
Critic Reviews for The Gay Desperado
All Critics (3) | Fresh (2) | Rotten (1)
Hats off to Mary Pickford and Jesse Lasky for producing a picture about an opera star with a new and funny plot.
... the joyride spread more silliness than joy my way.
Audience Reviews for The Gay Desperado
½
Rather lame and probably somewhat offensive to members of the Latino community for its stereotypical depictions of Mexican "banditos" and lazy peasants. A bandit (Leo Carillo) who is obsessed with 1930s gangster movies emulates his heroes by kidnapping an opera singer (Nino Martini) and an heiress (Ida Lupino). Supposed to be a comedy-musical but you couldn't prove it by me (Martini does have a really good voice), One clever bit of business though...at one point in the film, several "real" gangsters show up. Each one is a lookalike of a famous movie gangster: James Cagney from "Public Enemy", Paul Muni from "Scarface", Edward G. Robinson from "LIttle Caesar" and George Raft from ....well, pretty much everything. Other than that...can't really recommend it.
The Gay Desperado Quotes
There are no approved quotes yet for this movie.