Gay Sex in the 70s
(2005)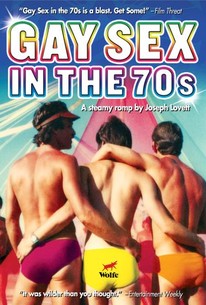 Gay Sex in the 70s Photos
Movie Info
In 1969, the Stonewall riots in New York City sounded the opening bell of the Gay Pride movement in America, and for many gay men it offered an opportunity to come out of the closet and live their lives in the open for the first time. As the gay community sought to define itself, it's not surprising that sex, once furtive and approached with no small amount of fear and shame, suddenly became openly and publicly celebrated and sought after, and in a handful of American cities, the gay scene became the center of a wildly celebratory orgy that lasted until 1981, when the discovery of AIDS led many men to reexamine their sexual habits. Filmmaker Joseph Lovett, himself a gay activist who produced one of the first major investigative stories on AIDS to be broadcast on American television, interviewed a number of men who survived the '70s for his documentary Gay Sex in the '70s, which offers a sometimes witty and sometimes rueful look back at the discos, bathhouses, underground clubs, and gay-friendly resorts which dominated the social and sexual scene of the day, as well as the stories of the men who sought to declare their new identities through sex.
Critic Reviews for Gay Sex in the 70s
Audience Reviews for Gay Sex in the 70s
I'm biased towards this doc, as it is the only film I've screened in weeks (and I average 5 movies per day) during which I did not briefly think or seriously consider "Yeah, I'll watch the rest of this later. Right now, I'm puttin on a porn and wanking instead". This doc had all the eye candy I needed to keep my complete mental attention, but that said, it is also an honest and illuminating examination of gay cruising scenes in the 70s up until the AIDS crisis. This is mostly a compilation of various interviews, and I can't recall any annoying overdone narration. This is an important document not just for gay men, but also anyone in human sexuality studies. And great asses abound ;D
_kelly .King
Super Reviewer
Really interesting title. By the way it means mostly Gay Men. And apparently people would photograph all of the secret underground places where men would meet. Also..I didn't fully grasp the weight of everyone pulling together so much in the wake of the HIV/AIDS epidemic..so really interesting film.
Hogans Hero
Super Reviewer
Gay Sex in the 70s Quotes
There are no approved quotes yet for this movie.