Geheimnisse einer Seele
(1925)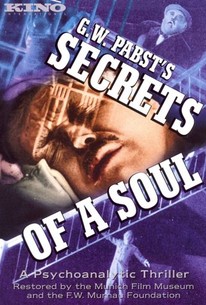 AUDIENCE SCORE
Critic Consensus: No consensus yet.
Movie Info
This film tells the convoluted tale of a chemistry professor who is haunted by inexplicable resentments. The professor doesn't really dislike his wife's cousin, who is returning after several years in India: why, then do thoughts of murder keep entering his head?
Critic Reviews for Geheimnisse einer Seele
Audience Reviews for Geheimnisse einer Seele
½
G.W. Pabst's "Secrets of a Soul" is somewhat dated in its simplistic embrace of Freudian psychology, but it's still a stylish, entertaining work from a visionary director. This 1926 silent opens with dumpy, middle-aged Martin Fellman and his young wife at home, alarmed by news of a grisly murder across the street. Later that night, Martin (a chemist by trade) has a terrifying dream that lasts about seven minutes onscreen. Easily the best reason to see this film, the dream sequence is a convincing simulation and boasts all sorts of radical jumps, clever effects and ominous images. Chess boards, stairways, dolls, train crossings, snare drums, a statue with a living face, women's heads ringing like church bells, a village that unfolds out of the ground...plenty of elusive symbolism to chew upon. The dream climaxes with Martin slashing at his beloved wife with a large knife. Understandably, he wakes up screaming in horror. And there's a curious, lingering side effect: As days pass, he finds that he can't bear to touch any knives or blades. This extreme phobia gets in the way of eating, shaving and even opening letters. His malady quickly becomes intolerable, and Martin pursues therapy after meeting a psychoanalyst by chance. Months of treatment follow, and eventually the doctor dissects the all-important dream and uncovers Martin's inner conflict. The answer is not as exciting as one might hope, but it does make narrative sense. The story wraps up within a tidy 75 minutes. Its influence on Hitchcock's "Spellbound" is obvious, and it even pre-dates Bunuel's "Un Chien Andalou" and "L'Age d'Or." (Wow...I'm surprised that, as of this posting, only 72 Flixster users have rated this film. I guess Werner Krauss's star power doesn't quite measure up to Louise Brooks'.)
Eric Broome
Super Reviewer
Geheimnisse einer Seele Quotes
There are no approved quotes yet for this movie.