Gen-Y Cops
(2000)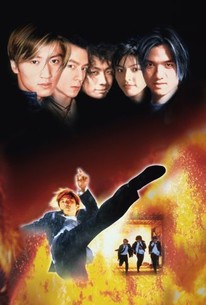 AUDIENCE SCORE
Critic Consensus: No consensus yet.
Movie Info
Making its American debut as part of the cable TV anthology Jackie Chan Presents, Metal Mayhem was originally released theatrically in Asia and Europe as Tejing xinrenlei 2 -- a title which roughly translates to Gen-X Cops II, proof enough that the film was intended as a sequel to the futuristic money-spinner Gen-X Cops. Paul Rudd is seen as "loose cannon" FBI agent Ian Curtis, one of several high-tech peacekeepers assigned to protect a group of American scientists at a Hong Kong-based international exposition. The fun begins when state of the art attack robot RS-1 (Skip Wilder) is unveiled at the exposition -- only to be promptly stolen by disgruntled ex-designer, Kurt (Richard Sun). With the help of this new super-weapon and a virtual army of hypnotized Hong Kong cops, Kurt intends to either take over the world or destroy it in the attempt. Aiding and abetting Curtis in his efforts to retrieve the robot is his slinky girlfriend, Jane Quigley (Maggie Q). Originally released at 110 minutes, Metal Mayhem was televised in the U.S. in a two-hour slot (plus commercials) over the Sci-Fi Channel on February 23, 2002.
Critic Reviews for Gen-Y Cops
There are no critic reviews yet for Gen-Y Cops. Keep checking Rotten Tomatoes for updates!
Audience Reviews for Gen-Y Cops
First and foremost, this movie was surprisingly released in 2000, and not in 1991 as it clearly looks. I'm still trying accept this. Let's just say the cinematography isn't a reason to see it. Gen-X Cops 2: Metal Mayhem (also known as Gen-Y Cops) is a thoroughly amateurish, incredibly cheesy Hong Kong attempt at a Hollywood-style blockbuster. I haven't seen the first Gen-X Cops movie, so I can't compare the quality between the two. The sequel, however, falls firmly into the "so bad it's (almost) good" category. The dubbing is atrocious, the fight and action scenes (while occasionally entertaining) are poorly choreographed, some of the acting is beyond awful, and the story is a mess of stolen robots, police officers trying to clear their names, maniacal hackers, and slapstick humor. Probably my least favorite thing about it was that it was simply too long and too often it was boring. I only watched the movie because of Maggie Q. (not nearly enough of her) and Paul Rudd (in his most ill-fitting role ever, though he still manages to be unintentionally funny). If you have similarly extraneous reasons or you just want to see a cheesy, weird movie, give Gen-X Cops 2 a shot. Otherwise, stay far, far away.
No where near as good as the first. Maggie Q and Edison Chen do what they can.
Anthony Valletta
Super Reviewer
A film that tries to build off of the first installment. While the first gen cops film was just OK, this one falls short when compared with it. In other words, it is pretty crappy.
The story is everything you would expect from a Benny Chan film. Cocky bad guys, being chased by young forget the rules cops. No depth in the story and not enough character background makes this film really easy to follow, but also a bit bland. This film, as you would expect, moves pretty quickly and yet there are still times when it feels like nothing is happening. Not a good thing. At least the story is a little "teched up" with the use of an attack robot being the centerpiece of this film. Still, it is not enough to save this movie.
There is a ton of action in here, but it is nothing spectacular by any means. The shootouts are rather weak and the martial arts is laughable at times. I guess it can't be helped when it is written that way into the story.
The acting is average at best and that is to be expected. Unfortunately, there is a bunch of overacting in here. While it is not uncommon to see this, it is just a bit over the top. Sam Lee is just plain irritating and so is Richard Sun. I can live with Richard Sun's performance, but I can't say the same about Sam Lee. What makes the acting worse is the dialogue. There is a ton of English in this film and it sounds unnatural like it is read directly as it is written on the script, if there is one. The only decent performances of this film come from Paul Rudd and Anthony Wong. The latter is just a guest star with only a small role. I just wonder why Paul Rudd is in this film. He seems to have a pretty good Hollywood career going. Maggie Q? Well, it looks like she picks another bad Hong Kong movie to be in.
I don't see any real reason to watch this film, unless you don't mind watching a comedic action adventure. If you want something more serious there are a ton of other films out there, even the first Gen-X Cops.
Gen-Y Cops Quotes
There are no approved quotes yet for this movie.