General della Rovere (Il generale Della Rovere)
(1959)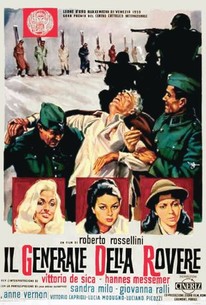 General della Rovere (Il generale Della Rovere) Photos
Movie Info
In General Della Rovere, a black market criminal (Vittorio DeSica) is arrested by the Nazis, who forces him to impersonate a recently executed Italian general in hopes that he will direct them to the leader of the Resistance. DeSica, who normally directs films, gives a terrific performance as the con-man who becomes a martyr.
Critic Reviews for General della Rovere (Il generale Della Rovere)
Audience Reviews for General della Rovere (Il generale Della Rovere)
In "General Della Rovere," Colonel Grimaldi(Vittorio De Sica), retired, makes his first appearance just after curfew ends in occupied Genoa at 6:00 am when he helps Nazi Colonel Mueller(Hannes Messemer) with a flat tire. Grimaldi just blew the money that was intended to bribe a Nazi Sergeant(Herbert Fischer) to ensure the release of a prisoner on gambling which he always loses at. And his trophy girlfriend Valeria(Sandra Milo) has nothing for him, intending to leave anyway, and any attempts to sell a fake jewel prove fruitless. Enter the piano tuner. While some might criticize "General Della Rovere" for getting off to a slow start before the plot eventually kicks in, I think it is more a case of a carefully told study of a character who could be viewed as something of a scoundrel, cad, con man, or thief.(Did I leave out anything?) However, what is most important about Grimaldi is that he does not just pocket all of the money; he does try and help his fellow Italians with his innate charm by bribing Nazis(in wartime, everybody has their roles to play.) who after five years of war are worn down and possibly see the writing on the wall.(The Sergeant wants to be paid in cash.) There is literal writing in the notices the Nazis post, promising death for everything more severe than spitting on the street(as you can see, Grimaldi has lots of business) which is only a small part of the arresting images(including some archival footage) that director Roberto Rossellini uses to create a powerful tale of occupied Italy during World War II while avoiding easy sentimentality.
General della Rovere (Il generale Della Rovere) Quotes
There are no approved quotes yet for this movie.