Genocide
(1981)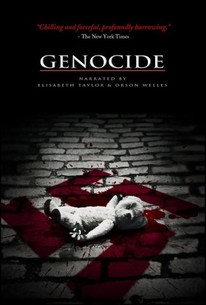 AUDIENCE SCORE
Critic Consensus: No consensus yet.
Movie Info
The history of anti-Semitism and the Nazi mass murder of the Jewish people.
Cast
Critic Reviews for Genocide
All Critics (3) | Top Critics (1) | Fresh (2) | Rotten (1)
In this film, memory and ambition ultimately collide. The 6 million deserve more than dire prophecy and less than an overproduction.
There are many Holocaust documentaries to choose from but Genocide is a solid choice for introducing people to the atrocities.
This Oscar-nominated documentary, narrated by Orson Welles and Elizabeth Taylor, adds a panel to the growing literature on the Holocaust.
Audience Reviews for Genocide
Well this is the movie Wiesenhiemer wanted me to watch. So here it is. I find I have a little trouble writing great reviews for documentaries but I'll give it my best shot here. This is only the 4th review (community and critic) for this film on this site. This is a documentary about the history of antisemitism and the holocaust in Nazi Germany. My first thoughts about this film during the first few minutes was that it was put together kinda like a grade school play. The delivery of the dialogue was clunky and it seemed...over-rehearsed. As I'm sure you know, this isn't something that I want at all from a film discussing a subject as important as it is horrifying. However, I do not feel that it continued that way. I am a History education major at UNC (Greeley) and I specialize in Reconstruction to WWII particularly WWII. so I would like to think that I know a thing or two about the Holocaust. I actually learned new things by watching this. It did what a good Holocaust movie does: horrify. It shows what hardships the Jews of Europe had to go through, it showed how they were killed like animals, and worst of all, it showed that the allied leaders such as Roosevelt and Chamberlain did not allow Jews into America and Britain. I am still not sure why that is exactly. But I am sure it is something that the leaders of the world really regret. I know I would. People have posed the question to some (I think myself included) 'would you kill Hitler as a baby?' answer that yourself in the comments, but I say that no, I wouldn't The moment I would have killed Hitler was when he rolled into Austria to annex it for Germany. I would have been on a rooftop with a bazooka to blow that mini-mustached f***** off of the planet. All that to say, this film was a good one. It is not the best Holocaust film that I have seen (not even close) but it was still very good. Final Score: 34/40 Tomatometer rating: 100% with one review Tomatometer rating if my review was added: 100% with 2 reviews. Tomatometer community rating: 31% with 83 ratings (mine included) TRIVIA TIME: 1. The film was originally designed to be presented in a multi-screen format at a Los Angeles museum, with one 35mm projector, two 16mm projectors, and 18 slide projectors. Only after completion was it reformatted to be shown in standard film theaters.
Lord Naseby
Super Reviewer
Genocide Quotes
There are no approved quotes yet for this movie.