Gentleman's Agreement
(1947)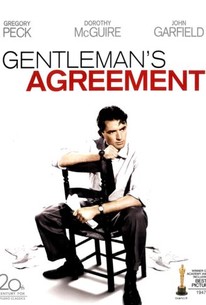 TOMATOMETER
AUDIENCE SCORE
Critic Consensus: It occasionally fails to live up to its subject matter -- and is perhaps an 'important' film more than a 'great' one -- but the performances from Gregory Peck and Dorothy McGuire are superb.
Gentleman's Agreement Photos
Movie Info
Adapted by Moss Hart from the novel by Laura Z. Hobson, this film stars Gregory Peck as recently widowed journalist Phil Green. With a growing son (Dean Stockwell) to support, Green is receptive to the invitation of magazine publisher John Minify (Albert Dekker) to write a series of hard-hitting articles on the scourge of anti-Semitism. In order to glean his information first hand, Green decides to pose as a Jew. As the weeks go by, Green experiences all manner of prejudice, the most insidious being the subtle, "gentleman's agreement" form of bigotry wherein anti-Jewish sentiments are merely taken for granted. Green's pose takes a toll on his budding romance with Minify's niece Kathy (Dorothy McGuire), who comes to realize by her own example that even those who insist that they harbor no anti-Semitic feelings are also capable of prejudice. Watching from the sidelines is Green's lifelong Jewish friend Dave (John Garfield, in what may be his best performance), who despite his inherent rage over the iniquities of racism has learned to be philosophical about the failings of his fellow man-but not to the extent that he's willing to give up the fight against blind hatred. Though warned by several Jewish film moguls that to produce the film would merely "make trouble," 20th Century-Fox chieftan Daryl F. Zanuck (who was not himself Jewish) saw the project through to its conclusion. The wisdom of Zanuck's decision was proven when Gentleman's Agreement not only made a fortune for Fox, but also won three Academy Awards, including Best Picture, Best Director (Elia Kazan) and Best Supporting Actress (Celeste Holm). ~ Hal Erickson, Rovi
Critic Reviews for Gentleman's Agreement
Audience Reviews for Gentleman's Agreement
½
A newspaperman lies and tells his co-workers that he's Jewish in order to experience prejudice. A strong performance by Gregory Peck is the main attraction to this film. That sonorous voice, his unflinching gaze, and his imperious demeanor make him the type of person who exudes integrity, and when he plays characters like Phil or Atticus Finch, actor and character become one. The film is reductive in its treatment of race/prejudice. I don't think one can truly understand prejudice by "playing Jewish." Yes, one can come close, and one can feel discriminated against in a cursory way, but I imagine that prejudice cuts deeper if one has a bone-deep connection with the discriminated against. Of course, I can't be sure. Also, the ending seemed ham-handed and maudlin, and I didn't think that what happened reflects what these people really would have done. Overall, Gregory Peck is always compelling even in films that aren't.
Jim Hunter
Super Reviewer
½
Very serious piece about silent prejudice, where the usual hallmarks of bigotry are hidden under a polished but greasy veneer of smiling good manners. Ahead of its time by decades at least, the crux of the tale interestingly happens inside of a blossoming love affair between two we-know-better-than-that cosmopolitans, ably delivered by Peck and (very underrated but nuanced and shining) Dorothy McQuire.
Kevin M. Williams
Super Reviewer
Back when it was released during the late 1940s, this film was really quite something. It was a serious drma which tackled the issue of prejudice, specifically anti-semitism, something that really struck a chord given the historical evetns of the years preceeding it's release. I can see why it won some Oscars (including Best Picture), but I can't really say if it was the most deserving of the award or not. It is a good movie though, although it comes across as rather tame and typical by moden standards. So, in order to really enjoy it, you just have to force yourself into the same environment that the film was made and takes place in. You can get enjoyment out of it if you don't do that, but you might not find the film to be as impactful, either. It is a tad bit boring, and I think they could have handled the issues a little better, but, given the circumstances, they really pushed the envelope for the time, and did the best they could. I do like the performances though, because Peck is as reliable and watchable as always. The others are good too, but unfortunately, the score makes everyone seem more melodramatic than was probably intended. All in all, a decent enough film that tries to explore some serious issues. Some of its relevancy has worn off, but the principles remain. If you want to see how important social and cultural issues were dealt with via film in the past, you could do a whole lot worse than this.
Chris Weber
Super Reviewer
Gentleman's Agreement Quotes
There are no approved quotes yet for this movie.