Gen-X Cops (Dak ging san yan lui)
(1999)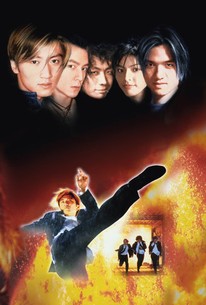 AUDIENCE SCORE
Critic Consensus: No consensus yet.
Gen-X Cops (Dak ging san yan lui) Photos
Movie Info
Young upstart cops are thrown into a maelstrom of danger in this Hong Kong-lensed action thriller. Ten tons of powerful explosives, recently recovered from smugglers, have been stolen by a Japanese terrorist group, led by criminal mastermind Akatura, and the Hong Kong police have to act quickly before the explosives fall into the wrong hands or are used against the wrong people. Chan (Eric Tsang), a effective but non-conformist police detective, decides to use cops that no one will suspect are cops; he pulls three promising but unlikely-looking students from the Police Academy and gives them a crash course on tracking terrorists. Jack (Nicholas Tse), Alien (Sam Lee), and Match (Stephen Fung) are soon sent out to infiltrate the operations of Akatura's right-hand man Daniel (Daniel Wu); along the way, they join forces with Y2K (Grace Yip), a female crime fighter with a talent for electronics. But the young cops soon discover that busting an international terrorist network is no piece of cake; their initial plan goes haywire, and they learn that Akatura plans to use his new-found firepower against the Hong Kong Convention and Exhibition Center. Boasting a high level of visual polish, Gen-X Cops features visual effects from Joe Viskocil and Sam Nicholson, who have worked on such blockbusters as Independence Day, Apollo 13, Terminator 2: Judgment Day, and Star Trek: The Motion Picture. Jackie Chan also makes a brief cameo appearance.
Critic Reviews for Gen-X Cops (Dak ging san yan lui)
Audience Reviews for Gen-X Cops (Dak ging san yan lui)
light HK action fare..nick at his usual best..this kind of movie entertains as long as you park your mind at the door..all around attractive cast of characters...
½
Another Benny Chan movie, which means another typical Hong Kong action adventure cop film. This one doesn't include Jackie Chan though.
The story is nothing new by any means. Young rookie cops set out to get the bad guys. Then you have bad guys betraying other bad guys. The film itself moves at a fast pace, but still isn't all that entertaining. Probably because the story doesn't go too deep. The dialogue doesn't really help either. I assume it is written for laughs, but for the most part, it just turns out corny. When all is said and done with this film, it just feels like a male version of Charlie's Angels.
The acting is everything you should expect from this type of film. OK, not great. There are a ton of recognizable faces though. This is a chance to see earlier roles from Nicholas Tse and Stephen Fung. The ever popular Daniel Wu also shows up here. The only acting worthy of note is from Francis Ng, who did what he could with the little airtime that he got. As mentioned earlier, this is a Benny Chan film without Jackie Chan. But don't be too discouraged because Jackie does make a cameo at the end, although it is nothing to write home about. At least the beauty of both female characters, Grace Yip and Jaymee Ong, give the males something to cheer about.
Of course this film would be nothing without the action. There are the usual explosions and shootings throughout. Yet, it still feels like it didn't meet the standard quota of what to expect. I guess without Jackie, the choreography and the stunts take a dive. There is a nice martial arts sequence at the end, but it isn't enough to really stand out.
This is just another Hong Kong action adventure. Nothing more. Watch it if you like these types of films.
Gen-X Cops (Dak ging san yan lui) Quotes
There are no approved quotes yet for this movie.