Georgia O'Keeffe
(2009)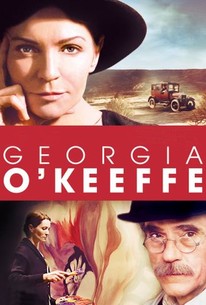 AUDIENCE SCORE
Critic Consensus: No consensus yet.
Movie Info
Joan Allen stars as acclaimed artist Georgia O'Keefe in this made for television biopic from director Bob Balaban. Smitten with photographer Alfred Stieglitz (Jeremy Irons), O'Keefe is devastated to discover her beloved husband has strayed. A retreat to Taos, New Mexico, however, provided the painter with the inspiration for "The Lawrence Tree," one of her most famous works. Ed Begley, Jr. and Tyne Daly co-star.
Critic Reviews for Georgia O'Keeffe
Audience Reviews for Georgia O'Keeffe
This film should have been called Georgia OKeefe, and Alfred Steiglitz, because all it emphasized was their self absorbed, stormy, relationship and shallow personalities. It had very little to do with artistic content. Never mind all the other strange characters in their lives. It was a shame to waste such a bland script on such great actors as Jeremy Irons, and Joan Allen. This movie just seemed to me to lack substance..
Cynthia S.
Super Reviewer
½
In an art gallery in New York City in 1916, Georgia O'Keeffe(Joan Allen) is not happy with any of her paintings and kindly requests that they be taken down. Alfred Stieglitz(Jeremy Irons) declines, defending how good they are. He is so much taken with her artwork that he offers her his niece's apartment, allowing him to drop by from time to time. On one such visit, Stieglitz photographs O'Keeffe with poses so revealing that they lead to his divorce. But that's okay, since the couple get married as a result, and the photos end up in a gallery. "Georgia O'Keeffe" is a well-acted, engaging, if hermetically sealed, recreation of the push and pull relationship of a visionary couple. If they had never met, then not only their fortunes and lives would have been the lesser, but also the art world itself. While O'Keeffe had the talent, she lacked confidence like so many women of her time but which was a common quality amongst the women of her social circle, especially Mabel Dodge(Tyne Daly). Stieglitz provided valuable encouragement and promotion while O'Keeffe's modeling helped his photography. However, they are also a cautionary tale in how a marriage can ruin a perfectly good relationship, with tradition in conflict with modernity.
½
Joan Allen does an exceptional of slipping into the skin of Georgia O'Keefe. If you can weather the miscast Jeremy Irons as Alfred Steiglitz this is a lovely movie. Credit to Bob Balaban and his cinematographer for making such Steiglitz-like images of Joan Allen.
Bill Cavros
Super Reviewer
Georgia O'Keeffe Quotes
There are no approved quotes yet for this movie.