Georgy Girl
(1966)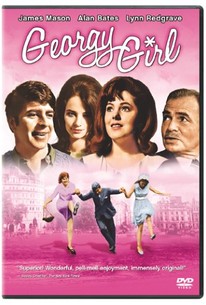 Movie Info
In this thoroughly-entertaining romantic comedy, Georgy is a slightly-overweight virgin in her early '20s who shares an apartment with the gorgeous, promiscuous Meredith. Georgy has never been the subject of the desire for any man until a married friend of her family decides he would like her for his mistress.
Critic Reviews for Georgy Girl
Audience Reviews for Georgy Girl
½
Georgy Girl is a sad commentary on the choices available to a frumpy girl in the 1960's. Nonetheless, it is an enjoyable movie.
Georgy is my favourite teen character from the sixties. This movie is both realistic and comic. It's a great story , and I really enjoyed this movie.
Georgy Girl is a surprisingly oddball 60s film, odd in that in the battle of the generation gap, it doesn't take sides... everyone is equally lousy. The baby-boomers are self-obsessed, narcissistic children who never take responsibility for their actions. The adult generation is also self-obsessed, though to a lesser extent. Georgy (Lynn Redgrave) is the conscience of the movie, the one good person in the sea of cynicism. Her father is a butler for a millionaire (James Mason, reviving his creepy old guy role from "Lolita"), who though he is 49, is projecting some sort of love onto the younger Georgy. She's all too content to run away from him and his request that she be his "mistress" to spend time with her Meredith, her violinist roommate. Jos, Meredith's boyfriend, often stays in the house alone with Georgy (waiting for Meredith to come home from her many dates with other men), and the two strike up an interesting relationship. But soon, Meredith becomes pregnant and out of boredom decides to "keep this one" and get married to Jos. I still can't get over the fact that a movie made in the 60s would portray young people in such a negative light, Meredith is basically a monster and Jos is emotionally stunted (at one point declaring "i'm Peter Pan!", as if to spell it out for us completely). That Georgy associates with either of these people only attests to the low self-image she has. She feels herself to be ugly on the outside, but in reality it's her friends who are the ugly ones. It fairly brutally attacks the institution of marriage, none of the characters, save one, marries for love. It deals with other racy issues (especially for the 1960s) such as pre-marital sex and abortion, rather cavalierly (well, this was a british film). I also enjoyed the musical score, both the original pop song and the harpsichord incidental music. The movie attempts some light-hearted moments, but the humor is very 60s and very British, lots of alien words and people jumping around. But this isn't a movie I'd recommend on the basis of it's comedy. It's actually very hit-and-miss, some questionable performances and writing in spots make it occasionally seem like an afterschool special. The general apathetic tone of the movie makes it seem more nihilistic than happy-go-lucky, so like I said at the beginning, it's an oddball mixture to say the least.
Devon Bott
Super Reviewer
Georgy Girl Quotes
There are no approved quotes yet for this movie.