Geostorm
(2017)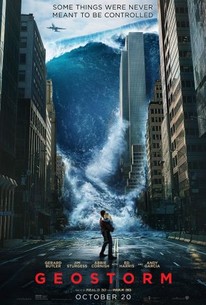 TOMATOMETER
AUDIENCE SCORE
Critic Consensus: Lacking impressive visuals, well-written characters, or involving drama, Geostorm aims for epic disaster-movie spectacle but ends up simply being a disaster of a movie.
Movie Info
A satellite designer (Gerard Butler) must race to avert a catastrpohe when the planet's climate control satellites begin to malfunction in this sci-fi action adventure from Warner Bros. and writer/producer/director Dean Devlin (making his feature directorial debut here). ~ Jason Buchanan, Rovi
Critic Reviews for Geostorm
Audience Reviews for Geostorm
½
Geostorm is a disaster of a film. Both ice cold with its one-dimensional characters and blazing hot with its stupidity. A raucous tsunami of unappealing visual effects that never strike a balance between political thriller and global disaster blockbuster. It's hailed as an outdated illogical mess, and I for one agree. Having said that, some moments of enjoyment are to be had if you are willing to suspend your disbelief. A space station that controls Earth's weather system is being hacked and used as a weapon. It's up to Butler to save the day (because apparently no one else can...). It commences with a condescending expositional narration from a child about climate change, and how we as humans have caused this. Make no mistake, it's an important topic. But, it's never referenced in the film again. As if we're being told off and now our punishment is to watch Geostorm. The story balances a political story where NASA employees and secret service agents attempt to work out what the heck is happening, with Butler's heroic bravura as he works on the space station to also investigate satellite anomalies. The former is interesting, the latter is stupid. Let me explain. Watching agents investigate a global investigation where someone wants them dead, is slightly captivating. Witnessing a spacesuit being hacked (me neither...) as Butler attempts his best Bullock impression from 'Gravity', is not fun. The disasters themselves are tertiary, an afterthought if you will and boy do some of them look terrible, particularly the Dubai tsunami. It's another case of characters seemingly outrunning outlandish weather types whilst everyone else melts, freezes or drowns. At least the space station looks decent, so there is some hope! The culprit(s) was obvious and lacked authentic motives. Every character was one-dimensional. And, as always, Butler sacrifices himself...only to miraculously survive. Oh, don't even start on the special code system that him and his brother created. Moronic. If this was released in the 90s, it could've been. It wasn't, and therefore shouldn't have been.
Luke Andrews
Super Reviewer
Just another end of the world destruction film and sadly it's very dull. The issue is the lack of destruction and the point of the story. I get you are attempting to hold back the villain reveal but when the film lacks and real reason for being until you have the reveal. This film could of been a hybrid genre film but there are pointless character moments that add nothing, why is a secret service agent helping the guy she has married over the President? Little things like this are really dumb and are there for the connection of the plot. The film could have been smarter and allowed the plot to mean something, Butler seems to be the go to guy for these high concept films, he looks to be the only actor attempting to breath life into a lifeless film. The finale is fun and offers the action we all wanted but it is too late, they needed a complete restructure and different filmmaker to save this film. 14/10/2018.
Brendan O'Connor
Super Reviewer
Oh my what do we have here?? Did we suddenly quantum leap back to the mid 90's??? So, its 2022 and technology has apparently advanced quite a bit. The Earth is now surrounded by a man made net of satellites which can basically control the weather. Up in orbit there is also an international space station that controls said net of satellites. Bottom line, its a global effort by mankind to try and protect the planet (of course when I say global that doesn't include every country, ahem). There's just one tiny problem, not all humans are nice, not all humans are on the same page. And so the net (called 'Dutch Boy' in reference to an 1865 fictional story) is hacked and used to cause natural disasters around the world. Enter the net designer Jake Lawson (Gerard Butler), who is tasked to solve the problem and essentially save the world. The end. Some of you might think this is just a silly disaster flick, and you'd be right to a degree. But this movie is in fact more of a political thriller mixed with a disaster flick element. The natural disasters we see are in fact triggered and created by the man made satellites, which are in turn started by the evil saboteurs. So its not really man vs mother nature, its man vs man using mother nature as a weapon. To be truthful the idea isn't actually that bad, its just a bit dated. A Pierce Brosnan [i]Bond[/i] plot type of dated. Luckily everyone in the movie acts so seriously, so butch and stoic with their grimaces and steely eyed stares, you can rest assure that everything will work out just fine. Obviously our tough hero Jake Lawson won't die, you think he might (and really he should have, multiple times), but he doesn't. But its really quite amusing and so very 90's how the actors deliver their lines which such ridiculous levels of attitude; trying their best to look and sound as cool as possible as they glare into the camera. I think Jim Sturgess (Max Lawson) is the most guilty of this. He really shows-off all the cliched action movie facial expressions and poses. Its like everyone watched 'Armageddon' before they started filming. That being said what do you get? Well pretty much everything really, the full gamut of disaster porn. Huge tidal waves, electrical storms, massive hailstones, a firenado, a freezing ice storm, the ground being torn open to reveal what I presume was lava etc...There are lots of sequences which show innocent people getting killed in lots of various ways; including massive carnage to buildings and property. The action is of course all CGI which ranges from good to average. Whilst the sequences in space look totally fine but nothing amazing, they are by far the best looking parts of the movie. Almost all of the disaster action on Earth looks like CGI. To top that the sequences all look like they've been copied and pasted from other movies such as 'Deep Impact'. You wanna see city skylines get washed away (or frozen, or knocked over) by giant tidal waves? Its all here folks...again. The actual action is simply predictable as feck. Again from seeing other disaster movies you can pretty much guess what's gonna happen. But one of the main issues with the action, like other disaster movies, is the fact its all so utterly stupid. Whilst trying to obtain a piece of data lodged in the space stations structure via a spacewalk, Jake's spacesuit goes out of control. He is flung all over the place crashing into the space station causing massive amounts of damage...yet he and his suit remain perfectly intact. On Earth whilst natural disasters are occurring specific characters are able to avoid the carnage around them and outrun pending doom in a car. How many times have we seen that? Then in the finale Jake and his new fellow scientist lady friend are both able to avoid masses of space debris flying around as the space station blows up around them. They both make it to a remaining intact satellite (via spacewalking I might add) which also manages to avoid all the deadly debris. Then to top if all of nicely the last intact satellite pod (why would a satellite be able to house two adult humans inside?) is picked up by a space shuttle...that just happened to be flying by? Seriously was this shuttle just off to the side waiting for the explosion to happen and subside so it could search for potential survivors inside satellite pods?? And while we're at it, why couldn't the self destruct be turned off?? The reason for having one was valid enough, but what about an abort option people?? I also found it quite cute how the person in charge of a countries satellite seemed to be from that country. Like, would NASA (or whoever) go to the trouble of finding a Japanese person to put in charge of the satellite that controls Japans weather?? So the Peru satellite is controlled by a Peruvian person, and the Nepal satellite is controlled by a Nepalese person etc...I mean I know political correctness is hyperbolic these days but Jesus Christ come on! Despite all that nonsense I gotta be honest and say I actually quite enjoyed this movie. It did exactly what it said on the tin. I was engaged and I found it quite exciting even though it was highly predictable. Yes its not a great movie, but its nowhere near as bad as people are making it out to be. I've said this before about certain movies, had this been released around 1995 or 1996, I think it would have been a reasonable hit. It would have fit in perfectly for the era, although it might have suffered from genre overload. These days of course this type of movie is practically dead, milked dry (almost solely by Devlin and Emmerich). But if disaster porn is your thing don't let that put you off because this really isn't all that bad, for what it is. 6.5/10
Phil Hubbs
Super Reviewer
Geostorm Quotes
There are no approved quotes yet for this movie.