Gerrymandering
(2010)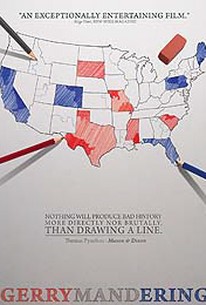 Movie Info
Right now, across the country, our two major political parties are gearing up for a once-a-decade war whose winner will control Congress for the next ten years, and possibly more. There will be battles in every state, and each will be kept carefully hidden from the prying eyes of average voters who only become more disenchanted with their government with each meaningless election. Democrats and Republicans collude to keep these skirmishes private so that they can maintain total control over the ultimate political weapon: the ability to directly determine the outcome of elections. Why bother stuffing ballots when they can just draw districts?
News & Interviews for Gerrymandering
Critic Reviews for Gerrymandering
Audience Reviews for Gerrymandering
"Gerrymandering" is an uneven documentary look into the eponymous practice of unfairly redistricting in order to favor one political party over another, that is exacerbated by one party simply giving up and not running any candidates in that district anymore. Fortunately, there is an innovative way to combat this. In 2010, Californians get to vote on Prop 11 which proposes taking redistricting out of the politicians' hands and putting it in the hands of ordinary citizens. As then Governor Schwarzenegger eloquently put it, it takes the conflict of interest out of the whole equation.(Yeah, I was shocked, too.) The rest of the documentary does not work nearly as well, even though showing the shape of a representative's district when he is being interviewed is a very nice tough. Outside of wisely having Lani Guinier testify, most of the evidence the documentary employs is on the anecdotal side when instead it should have used a clear timeline in showing how gerrymandering has been used to disenfranchise minorities over the years.(The bit about Martha's Vineyard threatening to secede from Massachusetts is hilarious, if untintentionally so.) And like most movies, "Gerrymandering" could have definitely used more armadillo racing.
Gerrymandering Quotes
There are no approved quotes yet for this movie.