Gervaise
(1956)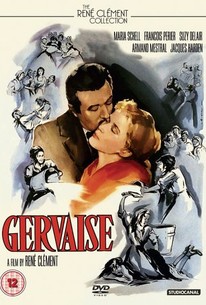 AUDIENCE SCORE
Critic Consensus: No consensus yet.
Movie Info
Emile Zola's obscure novel entitled "L'Assommoir" has been made into several films. This is one of the best. In this two hour movie an entire mini-series worth of problems have been compressed about a young woman to whom life has dealt hard blows. Set in the 19th-century, this woman deals with an alcoholic husband while doing everything within her power to keep the family together. An incredibly depressing movie in which the protagonist keeps on trying no matter what besets her, the performances are creditable and the direction superb. Self-involved characters give viewers no one to cheer for, but this movie received multiple awards, ranging from Best Actress at the Venice Film Festival to an Oscar nomination for Best Foreign Film. The music was composed by Georges Auric. ~ Tana Hobart, Rovi
Critic Reviews for Gervaise
Audience Reviews for Gervaise
Gervaise(Maria Schell) has two children, a bad leg, but no husband, living with Lantier(Armand Mestral), the father of her children. That changes when he leaves her which she finds out when her children show up at her workplace, a laundry, where some of her co-workers display less than sympathy. Defending her family's honor, Gervaise wins a ten round fight with Virginie(Suzy Delair) by TKO. Two years later, she is now married to Coupeau(Francois Perier), a roofer, and they have a daughter together. Even with that, Gervaise dreams of opening a shop of her own... "Gervaise" is a powerful and skillfully filmed movie, set amongst the working class of Paris in the 1860's(The Crimean War was in the past while Emperor Napoleon III is still in power) that attacks hypocrisy(notice the scene in the Louvre) concerning the role of women in society, advising them to to be patient in finding a husband, if they want one. This is a society where only the strong survive, and a single mistake could mean ruin, where Gervaise tries to take a different route by using her brains, even as she has been a mother since she was a teenager.
Gervaise Quotes
There are no approved quotes yet for this movie.