Get Crazy
(1983)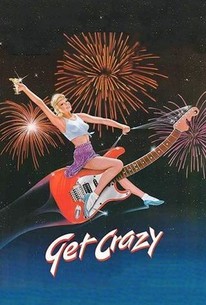 AUDIENCE SCORE
Critic Consensus: No consensus yet.
Movie Info
Director Allan Arkush knew whereof he spoke in Get Crazy. A longtime employee of Fillmore East, a popular rock-concert locale of the 1960s and 1970s, Arkush brought a great deal of insider's savvy to this comedy about the concert circuit and its denizens. Malcolm McDowell stars as a Mick Jagger-type rocker who is one of several acts lined up for a big New Years' Eve show. If villains Ed Begley Jr., Bobby Sherman and Fabian have their way, however, the show will never get off the ground. The supporting cast is dotted with such cult-flick icons as Dick Miller, Jackie Joseph and Mary Woronov. The musical portion of the program is handled by the likes of Malcolm McDowell, Lou Reed (as a Bob Dylan type) and Bill Henderson (as a Muddy Waters takeoff). In case it hasn't been made clear already, the main "joke" of Get Crazy is the presence in the cast of actors as musicians and musicians as actors; it is to the film's credit that this one joke never wears out its welcome.
Critic Reviews for Get Crazy
All Critics (2) | Fresh (2) | Rotten (0)
Get Crazy is worth watching simply to see this rock legend give a rather stiff performance as a hippie folk star then play an acoustic version of "Little Sister" over the closing credits. The stuff of dreams.
A bizarre but frequently hilarious rock parody
June 3, 2003 | Rating: 3/5
Audience Reviews for Get Crazy
The slightest of plots doesn't have nearly enough good comedy nor good music to overcome. Silly slapstick and dumb drug humor undermine Ed Begley's funny evil capitalist and his two flunkies attempting to take over a famous rock venue, the Saturn Theater. The songs are all OK but I found myself wishing I was watching a real concert video with better bands instead. Still, there's plenty of energy on display here. Two more worthwhile points of interest: Malcolm McDowell as Mick Jaggerish super egotistical singer Reggie Wanker, and especially Lou Reed parodying himself as introspective leather-n-shades rock legend Auden. Where else you gonna see that?
Doctor Strangeblog
Super Reviewer
½
You know we live in a dark world where crap like Rocky Horror Picture Show becomes a cult movie and a truly fun movie like Get Crazy is relegated to the darkest pit of cinematic obscurity. No dvd (music copyright problems it seems) no recognition whatsoever, and not exactly the most vocal fanbase. Malcolm McDowell is on my list of favorite actors in flixster pretty much for this. That Daniel Stern is more remembered for crap like Home Alone than this is another crime, and the list just goes on and on. Seriously, fuck this world, you can't call yourself a movie fan until you see the scene where Reggie Wanker has a conversation with his penis.
Tsubaki Sanjuro
Super Reviewer
Get Crazy Quotes
There are no approved quotes yet for this movie.