Get Over It
(2001)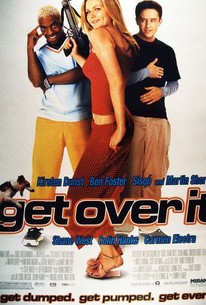 TOMATOMETER
AUDIENCE SCORE
Critic Consensus: As with most teen movies, Get Over It is entirely predictable, and there's not enough plot to sustain the length of the movie. However, it is not without its charms.
Movie Info
Ben Foster stars in this teenage comedy as Berke Landers, an average high schooler who has achieved high status by winning over Allison (Melissa Sagemiller), reputed to be the most popular and beautiful girl in his class. After an initially winning time, Allison finds herself drawn to the hot new guy in school, leaving Berke in the lurch. At the risk of ruining his unsteady reputation, Berke concocts a scheme for getting Allison back: he will join the school production of +A Midsummer Night's Dream and prove his romanticism to her. Realizing he needs an effective acting coach, he turns to Kelly (Kirsten Dunst), who was once the annoying little sister of a best friend and has suddenly blossomed into a grownup -- to whom Berke finds himself drawn. Berke must then decide if getting Allison back is the ultimate priority, as he falls for the more sensible Kelly, all while trying to maintain a credible presence both in school and in his new acting gig. Get Over It also features R&B singer Sisqo, comedian Martin Short, and Shane West in supporting roles.
Critic Reviews for Get Over It
Audience Reviews for Get Over It
½
Last November, I wrote an article for WhatCulture! in which I cited my ten favourite film adaptations of William Shakespeare plays. Reducing over 100 years of cinema down to a top ten is no easy task, so to make it easier I restricted my list to adaptations which retained Shakespeare's dialogue. While there are many so-called vernacular adaptations that I admire in some way, I felt that disposing of the language somehow made these versions less faithful: losing the unique speech pattern of Shakespeare robs many of his greatest lines of their power and meaning. If we remove this distinction, however, we broaden the landscape of films which attempt to bring Shakespeare to a more modern, often younger audience. Alongside more famous teen offerings like Romeo Must Die and 10 Things I Hate About You, we find Get Over It, a loose reworking of A Midsummer Night's Dream with a bright, shiny colour palette and a pre-Spider-Man Kirsten Dunst. While being far from perfect as either a Shakespeare adaptation or a teen comedy, it's not without its charms. There are two angles from which we can approach Get Over It. One is to judge it in terms of its fidelity to Shakespeare's play, and the other is to judge it according to our expectations of teen comedies. To put it another way, we have a choice between attempting to justify it in the company of many more consciously high-brow efforts, or to defend it as a surprisingly good offering in a genre sadly associated with all that is low-brow, clichéd and disappointing. Taking the first approach, the film retains some key elements of the 'Dream which are played up to varying extents. Most obviously, it retains the structural device of the play-within-a-play, or in this case play-within-a-film. While this is pretty common in teen dramas, the relationships between the actors in the film are reflected in their characters on stage in a way which is believable and amusing. Tommy O'Haver isn't a brilliant director, but he does replicate the deliberate artificiality of the play-within-the-play; it's not as easy as it sounds to get a good actor to play someone who can't act. The central theme in Get Over It is that the person that you love now isn't necessarily the person that you're meant to be with. This is a theme that crops up time and again in romantic comedies, often being used as the excuse to get our two overly glamourous leads to end up together when the plot can't do it on its own. The film makes no attempt to challenge this incredibly trite sentiment, but it does at least try to tie it to something more meaningful. Shakespeare's comedies like the 'Dream and Much Ado About Nothing regularly involve people falling in love unexpectedly with people whom they previously held in no regard. Benedict and Beatrice in the latter begin hating each other, but through the plotting of their friends end up genuinely falling in love. Twelfth Night even turns this device on its head, with Malvolio's cross-gartered downfall serving as a warning against trying to impress others based on idle gossip. Get Over It attempts to tie the dynamic of its four main characters to the four Athenian lovers in the 'Dream. The most straightforward and faithful thing would be for the characters to exactly mirror their theatrical counterparts, and for the casting of the play-within-a-film to fit that. But instead, our central character Berke (played well by a young Ben Foster) goes from resembling Lysander in nature to being much closer to Hermes: he stops seeing Kelly as a distraction from his pursuit of Allison and discovers that he truly loves her. Get Over It makes no bones about playing fast and loose with Shakespeare, right down to Berke breaking character during the stage show and ad-libbing to convey his love for Kelly. This does make it a frustrating experience for purists, who know the play backwards and want to see it accurately replicated in a modern setting. Certainly the film isn't in the same league as Baz Luhrmann's Romeo + Juliet, which updated the setting while retaining the period language. Rather than viewing it as an accurate adaptation, it's perhaps better to see the film as a gateway drug for people coming to Shakespeare for the first time. Many who've have to deal with Shakespeare in high school will recognise the reluctance of the characters in having to perform it, and find some mirth in the more ostentatious or pretentious characters who yearn for a life in the theatre. While it's far too loose as far as the actual plot is concerned, it does convey the awkwardness of approaching Shakespeare and poke fun at the equally awkward way in which it is often staged. The film is at its best when it attempts to show the characters being affected by the subject matter of the play. There are a number of visually pleasing set-pieces, in which Berke finds himself in the woods with Allison and Striker, growing in jealousy and frustration as events unfold and he finds himself helpless and unable to act. These are the best-lit and most appealingly-shot scenes in the film, giving us a break from the shiny, late-1990s visuals. Maryse Alberti is a good cinematographer, having shot Velvet Goldmine, and it's nice to see her trying to move the film into more poetic and ambitious territory. Looking at Get Over It from the second perspective (i.e. as a teen comedy), it's also a pleasant surprise in a couple of ways. Like many teen comedies, the plot is as predictable as they come: we know that Berke and Allison won't get back together even without Shakespeare poking his nose in. But there is a certain pleasure to be derived from seeing all the pieces fit together, and if the film makes us laugh than it's ultimately doing its job. The film benefits greatly in this regard from Martin Short. Short's played many an outrageous and annoying character in his time, often turning up in supporting roles where he is given a free rein and quickly gets on our nerves. But in this instance, he manages to focus his energies into a confident performance which is goofy and silly but ultimately rings true. His character is more believable than his work in Father of the Bride and its sequel, with all the exaggerated features having logic behind them rather than just the next punchline. Kirsten Dunst is also a pleasant surprise. Dunst took the role because it gave her the opportunity to sing on screen, and she nails both the vocal numbers with a surprise amount of presence. But like Short, she also has a knowingness to her: she knows how the rules of this kind of film work, and therefore how to take something silly and make it pass off. She raises the standard of the other performers for every second that she's on screen, something that she has done with increasing regularity as her career has developed. The rest of the cast, by contrast, are more of a mixed bag. Neither Colin Hanks nor Sisqó get a great deal to work with, with the former lacking the overt charisma of his father. The latter seems to have been cast as a gimmick, given his chart popularity at the time, which makes it all the more peculiar that he gets so little to do. Melissa Sagemiller is passable as Allison, though she doesn't play the later scenes all that convincingly, and Shane West isn't as memorable as he could have been. Ultimately Get Over It has just about enough going for it to pass muster. Its opening musical number, with Berke being followed by dancers, is like a more upbeat, cheeky version of U2's video for 'Sweetest Thing'. Berke's parents are a welcome source of deadpan laughs, while his scenes with Kelly are pitched just right, being tender without getting cloying. At a time when most teen comedies were being pitched in the vein of American Pie, it's refreshing to find one that's willing to be sweet and relatively innocent. Get Over It is a fun and light-hearted teen comedy which serves as a reasonable introduction to one of Shakespeare's best-loved play. Anyone searching for either a perfect adaptation or a mould-breaking teen comedy will wind up disappointed, but it does enough to satisfy the casual viewer who wants the best of both worlds. Whether as a frothy romantic excursion or an opportunity to see Dunst before her big break, it remains a surprisingly charming comedy.
Daniel Mumby
Super Reviewer
Although predictable, I still enjoyed this movie. Who knew Kirsten Dunst could sing?
Let The Party Begin! Very good movie! I really enjoyed it, it was very funny. Great Cast! Get over it is a cute no brainer that has some good one liners, funny musical numbers, and clever direction. Rent it the next time it rains and you miss the teen movies of the eighties. Berke is devastated when his girlfriend Allison kicks him out. She takes up with cocky Striker, who claims fame as a singer, and the two of them audition for the school's "Midsummer Night's Dream" musical. Berke follows suit, much to the annoyance of his basketball team buddies Felix and Bentley. Our hero finds himself not only in the play but eventually as one of the leads, partly due to help from Felix's sister Kelly. As First Night approaches, questions need answering - Will Berke and Striker come to blows? Can Bentley take over as the lead dancer? Isn't Kelly nicer than Allison anyway?
Get Over It Quotes
There are no approved quotes yet for this movie.