Get Shorty
(1995)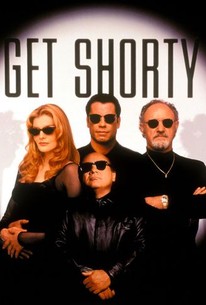 TOMATOMETER
AUDIENCE SCORE
Critic Consensus: With a perfect cast and a sly twist on the usual Hollywood gangster dynamic, Get Shorty delivers a sharp satire that doubles as an entertaining comedy-thriller in its own right.
Movie Info
A mobster travels to Hollywood to collect a debt and discovers that the movie business is much the same as his current job. Based on Elmore Leonards' 1990 novel of the same name.
Critic Reviews for Get Shorty
Audience Reviews for Get Shorty
Miami gangster and film buff discovers Hollywood work is not that much different than work in the Mob, thank goodness. Travolta has fun playing a mobster who's playing a mobster ("... like inna movies!") who's dream is to play a movie mobster ("... like DeNiro or Pacino!") and Hackman, playing against type, is perfect as a nice guy only acting the part of a sleezeball producer. Everyone in this movie ( like Jerry Lewis maybe) is the star, the writer, the director and the producer of their own mental movie (like here at Flixster!). The only guy in this movie who doesn't want to be in the movies gets whacked in the end, sort've divine retribution. My fav scene has Travolta teaching DeVito how to act tough like a mobster.
Kevin M. Williams
Super Reviewer
Chili Palmer: Rough business, this movie business. I'm gonna have to go back to loan-sharking just to take a rest. After watching Get Shorty it seems like it should have been great. The story is there and the cast is there but it never seems to amount to anything above average. I hated the first half of the movie. Then once Danny DeVito's character is introduced it starts to pick up. The cast is great except for one actor who I don't like at all and that would be Dennis Farina. For some reason he just annoys the hell out of me. The movie had a lot of potential, which is really annoying because the movie just wasn't that good. I have thee feeling I'm overrating this just because I really like Travolta and DeVito in this movie and I'm not a huge fan of either of them. As a comedy, Get Shorty really didn't work. There were no really funny parts or lines. It seems like every time gangsters get brought into comedy it turns out bad.
Melvin White
Super Reviewer
½
Liked the ending but the movie itself was not that entertaining.
Dead Angel
Super Reviewer
Get Shorty Quotes
| | |
| --- | --- |
| Chili Palmer: | (With a deadpan expression) Look at me! |
| Chili Palmer: | [with a deadpan expression] Look at me! |