Get Smart
(2008)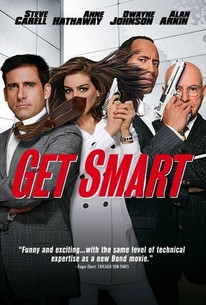 TOMATOMETER
AUDIENCE SCORE
Critic Consensus: Get Smart rides Steve Carell's considerable charm for a few laughs, but ultimately proves to be a rather ordinary action comedy.
Movie Info
40-Year-Old Virgin star Steve Carell steps into the telephonic shoes of television's most beloved bumbling detective in this big-screen adaptation of the hit 1960s-era comedy series created by Mel Brooks. The evil geniuses at KAOS have hatched a diabolical plot to dominate every living man, woman, and child on the planet, and their plot gets under way as they attack the headquarters of the U.S. spy agency Control. As a result of the attack, the identity of every agent working for Control has been compromised. Realizing that the only way to thwart KAOS' evil plan is to promote eager but inexperienced Control analyst Maxwell Smart (Carell) to the rank of special agent, the Chief (Alan Arkin) reluctantly teams Smart with Agent 99 (Anne Hathaway) -- a veteran super-spy whose beauty is only surpassed by her lethality. With no real field experience to speak of and nothing but sheer enthusiasm and a handful of fancy spy gadgets to help him accomplish his deadly mission, Maxwell Smart his new partner, Agent 99, will be forced to faces malevolent KAOS head Siegfried (Terence Stamp) and his loyal army of minions in a decisive fight that will determine the fate of the free world. Dwayne "The Rock" Johnson, David Koechner, Terry Crews, and Ken Davitian co-star. ~ Jason Buchanan, Rovi
News & Interviews for Get Smart
Critic Reviews for Get Smart
Audience Reviews for Get Smart
[img]http://images.rottentomatoes.com/images/user/icons/icon13.gif[/img] It's nowhere near as awful as it could have been thanks to it's strong cast but after it finally decides to wrap itself up in a neat bow, Get Smart adds up to nothing more than terribly average and relatively lame summer material. It's downfall is the fact that it makes little use of it's star studded talent like most massively financed comedies, there was definitely a missed opportunity here. It's fairly dull and runs out of steam about 30 minutes in and decides to go dead serious when it comes to the plot. Which I will point out is all over the place and almost non-existent. There's also a huge problem with the soundtrack because it repeats the same stereotypical spy thriller music over and over and over again. It's not terrible, Steve Carell scores a lot of laughs but after almost 2 hours of having him on screen doing nothing more than his charming face, it really made me think of how brilliant The 40 Year Old Virgin was. Anne Hathaway also does the best with the weak script she's given, she has fun as does Alan Arkin and Terrence Stamp in their perfectly cast roles. But in the end the film as a whole is fairly forgettable, it has moments of good comedy, but that and cleverly crafted special effect sequences can't quite make up for the flaws surounding them.
Directors Cat
Super Reviewer
A funny movie that revolves around Carrell and his antics. The story is not great nor does it make perfect sense, but it keeps the movie moving and Carrell keeps the jokes coming. Main fault is lack of chemistry between Hathaway and Carrell.
Sanjay Rema
Super Reviewer
It's exactly what you can expect from it. A funny joke here and there. And a medicore plot. I can't mention anything funny. Cause I can't remember it...
Martin Sahlin
Super Reviewer
Get Smart Quotes
| | |
| --- | --- |
| Maxwell Smart: | I think it's only fair to warn you, this facility is surrounded by a highly trained team of 130 Black Op Snipers. |
| Siegfried: | I don't believe you. |
| Maxwell Smart: | Would you believe two dozen Delta Force Commandos? |
| Siegfried: | No |
| Maxwell Smart: | How about Chuck Norris with a BB Gun? |
| | |
| --- | --- |
| Maxwell Smart: | I believe you have underestimated me and the element of surpriiiiiiiise!!! (throws phone at him) |
| Maxwell Smart: | I believe you have underestimated me and the element of surprise! |
| | |
| --- | --- |
| Maxwell Smart: | Did you see anything while I was dancing? |
| Agent 99: | Just once, but I don't think you expected him to lift you so high. |
| | |
| --- | --- |
| Maxwell Smart: | Sir, I believe you just broke my coccyx.... |