Get to Know Your Rabbit
(1972)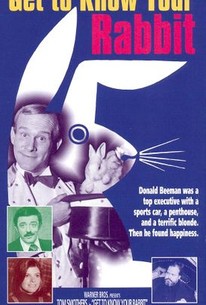 AUDIENCE SCORE
Critic Consensus: No consensus yet.
Get to Know Your Rabbit Photos
Movie Info
In this comedy, young Donald Beeman (Tom Smothers) becomes disillusioned with his business career and quits to become a tap-dancing magician. However, the grass isn't always greener, and Donald soon discovers that the money-oriented aspects of his former career are starting to creep into his new life.
Audience Reviews for Get to Know Your Rabbit
½
A bizarre nugget from director Brian DePalma's early career, "Get to Know Your Rabbit" lands halfway between Woody Allen's concurrent farces ("Bananas," "Sleeper") and the many late-'60s comedies ("I Love You, Alice B. Toklas," for instance) where a "straight" drops out to experiment with the subculture. Tom Smothers is Donald Beeman, an executive marketing analyst who turns exasperated with the corporate grind, quits his job, moves to a fleabag hotel and takes lessons to become (ta-daa) a tap-dancing magician. His teacher? Orson Welles, of course. A pitiful string of bookings in sleazy bars follows, but Donald is happy to be living his dream. Along the way, he meets a beautiful gal or two, including groupie Katharine Ross (who must have been asking herself how her career so quickly plunged from "The Graduate" and "Butch Cassidy & the Sundance Kid" to this silly flick). Familiar faces Charles Lane, M. Emmet Walsh and Bob "Super Dave Osbourne" Einstein also pop in for random scenes, while the always wonderful Allen Garfield has a solid part as an overbearing brassiere salesman. And John Astin is Donald's needy ex-boss who becomes a crucial obstacle to the righteous, unfettered life. From the start, it's obvious that "Get to Know Your Rabbit" is too absurdist to have any real satirical bite. The plot makes less and less sense as it goes (just how many cut-rate magicians can the marketplace handle?) and, except for a couple of overhead tracking shots, the film has the aesthetics of a bland sitcom rerun. Smothers is a likable star, but his magic skills fail to impress (partly by design, sure). He does allow himself some racy moves that wouldn't pass on television, such as briefly exposing his genitals (too far away from the camera to be notable) and squeezing naked breasts. "Rabbit" is a fun little romp, but viewers seeking DePalma's comic side are much better off finding his previous film, "Hi Mom!"
Eric Broome
Super Reviewer
Get to Know Your Rabbit Quotes
There are no approved quotes yet for this movie.