Ghajini
(2008)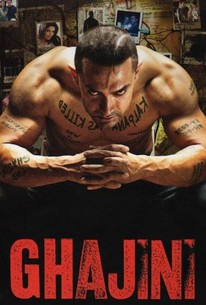 Movie Info
The plot of A.R. Murugadoss' Ghajini borrows heavily from Christopher Nolan's Memento. Sanjay (Aamir Khan) suffers from short-term memory loss. He spends his days attempting to take revenge on those responsible for the death of his girlfriend, but his condition complicates this process. To help him, he constantly makes notes for himself. Some of the notes take the form of crude homemade tattoos.
Critic Reviews for Ghajini
Audience Reviews for Ghajini
May 18, 2009 Wonder why Aamir went for it. He mimicked Surya (original Ghajini's lead actor) for most of the part, which was something I never expected from Aamir. Also, the movie was hardly interesting or entertaining for me and certain things were overdone and repetitive. Really a bad one which did pretty good at the B.O.!!! The concept of Memento could have been far well utilized for an adapted plot if the makers weren't willing to go with it as it was. This Ghajini has some fine songs, but then is full of cliches and conventional execution. The dialogues and dialogue delivery are terrible. Seems like watching some B grade romantic action film. Don't ask.
familiar stranger
Super Reviewer
½
Ghajini (Hindi: गजनी) is a little bit different from the typical Bollywood movies. This psychological thriller very well written and directed in a "CIS style" by A. R. Murugadoss has its share of singing and dancing (they could fit anything in over 3 hours)... but this remake of Murugadoss's own Tamil film Ghajini (which was inspired by Christopher Nolan's Memento) is something different - from the style of directing to the details and, I'll say, HUGE budget. The star Aamir Khan spent a year at the gym, training for the role but sometimes the results were visible only because he was dressed as little as possible! I've never seen a businessman dressed like him in my life - with sleeves rolled up to expose the muscles... but somehow the director wanted us to make us believe that in India that is OK?! Not sure about it. It is nicely explored story of a rich businessman who develops anterograde amnesia following a violent encounter in which his love and wife to be, sweet girl Kalpana, was killed. He tries to avenge the killing and that is not easy with only few aids like Polaroid Instant camera photographs and permanent tattoos on his body... Most of the characters were very well developed and there is no surprise that Ghajini is currently the seventh highest grossing Bollywood film according to worldwide gross collections. On release it became the highest grossing movie of all time until it was beaten by another Aamir Khan movie - "3 idiots" in the following year. It is a movie which delivers entertainment by bucketful - there is few flaws in the screenplay, but the acting was in most cases exceptional. Maybe the movie is made for audience which has a memory loss after 15 minutes, like the main character... but at least they can have lots of fun in between enjoying in all the action, romance and drama! Of course, if your memory serves you well - 183 minutes could be a little bit too much...
Ghajini is a movie that instantly became a favorite of mine after watching it. While I'm certainly no expert in the drama genre, I will say this movie provide an experience anyone could enjoy. Ghajini is about a student who is endangered after she warns a wealthy male that a crazed recluse with short term memory loss is out to kill him, not knowing the reason behind the recluse's actions. If you watched Memento than you know what you'll be getting into with this movie. Ghajini borrow heavily from Memento, but it has enough original ideas to have it own identity. It has everything you could want in a well told story as it has a hateful villain, deeply developed characters, a fascinating hero, and finally a balance between the light hearted and serious scenes. It's truly a masterpiece in storytelling and it's certainly something I won't forget anytime soon. From a technical standpoint it's visually appealing and poetic creating the right emotion for our characters and the story itself. I'm also going to give praise to the cast, especially Amir Khan who stole the show as Sanjay. I especially loved Asin Thottunkal who isn't another pretty face as a love interest, her character is very likable and well developed that she's easily one of the best love interest ever written for a movie. I'm no stranger when it comes to giving a perfect rating for a movie, but there are some things that viewers won't get behind as not everybody shares the same opinion on movies. Some will probably hate how it goes from a serious drama to a love story out of nowhere, the random musical numbers, and finally the length of the movie. Now I welcome it creative storytelling (I even liked the musical numbers) and it length wasn't a problem for me as I got behind Amir character and the more I got to see his story revolve the more the movie grabbed my attention. Now while these flaws may be a problem for some viewers, I personally had no problem with these flaws. Ghajini is a movie that provides a emotionally deep fascinating story, visually stunning cinematography, a great cast, and gives you a memorable experience. Ghajini is a must watch movie that provides all the goods you could want in a good movie.
Caesar Mendez
Super Reviewer
Ghajini Quotes
There are no approved quotes yet for this movie.