The Ghost and Mrs. Muir
(1947)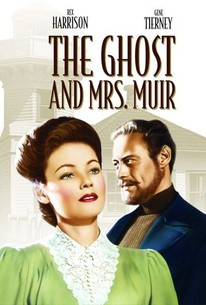 The Ghost and Mrs. Muir Photos
Movie Info
Based on R.A. Dick's novel, this film is a romantic fantasy about a widow who moves into a reportedly haunted cottage on the English seaside. Shortly after she arrives, she is indeed haunted by the ghost of a sea captain. Though their relationship is antagonistic at first, the two become friends.
Critic Reviews for The Ghost and Mrs. Muir
Audience Reviews for The Ghost and Mrs. Muir
With a moving score by Bernard Herrmann this atmospheric piece of cinema becomes one of the great screen romances, ocean waves poetically crashing against the shore and all. A widow and her daughter move into a lonely seaside cottage reportedly haunted by the ghost of an old sea captain. But is it? Tierney and Harrison are most sympathetic here.
Kevin M. Williams
Super Reviewer
An inviting and star crossed film about a love that dare not speak its name, and some semblance of a ghost story. There isn't anything too supernatural or strange about this film, but it is about the loss of what could have been, an inviting subject since one of the paramours is dead. Set at the turn of the twentieth century, it stands as a period piece about an always lonely widower with a daughter and servant who move to a secluded cottage in England. Inhabitating the cottage already is the wrongfully slandered sea Captain Gregg who haunts the house after not accepting his own demise. The film warrants sincere love from watchers as we see Mrs. Muir battle her conscience, heartbreak, and tries to be strong against her in-laws and the decisions she must make though they keep her isolated from the outside world. Though truly a ghost story about the captain, it doesn't ultimately center on the dear departed Gregg. There are some interesting scenes where special effects are used to open and close windows, doors, and all manner of lights switching on and off. This leads to a good bit of humor, which is where Rex Harrison shines through. His exceptional humor and briny performance come off as the learned man of the house, while also being brash and roguish. Though their romance comes off as stilted and strange in truth, the actual story and breadth of time it takes for the ending to come about was heartbreaking to watch, as Mrs. Muir is left to her own ends and finds little truth in her life or in the captain's death. Gene Tierney is also a beautiful addition to the cast. She is so prudish and sweet tempered, yet she doesn't wait to be pushed around by her family, or for that matter a ghost. Though she is certainly strong, there is little to be done about her own happiness and life, as the only person for her is actually dead. Though the last twenty minutes peter along slowly, it was a sufficient buildup to show the complexities of Mrs. Muir's situation and her choice in her own happiness. I absolutely loved the adorable give and take between the two leads, the moments of humor demonstrated mostly from Rex Harrison, and the performances, even from the little girl. It was a beautiful film, if not a tad campy and the characters somewhat petulant at times.
Spencer S.
Super Reviewer
½
Strange and even a bit silly at first glance, then it turns enchanting, dreamy. hauntingly beautiful. A misty night, with the sea side and the waves clashing, in front of Gene Tierny's angel face and backed by Bernard Herrmann's gorgeous music score, and I could die happy.
Pierluigi Puccini
Super Reviewer
The Ghost and Mrs. Muir Quotes
| | |
| --- | --- |
| Lucy Muir: | "I want Gull Cottage." |
| Lucy Muir: | I want Gull Cottage. |
| | |
| --- | --- |
| Ghost of Capt. Daniel Gregg: | "And now, you'll never be tired again. Come my dear." |
| Ghost of Capt. Daniel Gregg: | And now, you'll never be tired again. Come my dear. |