Ghost Dad
(1990)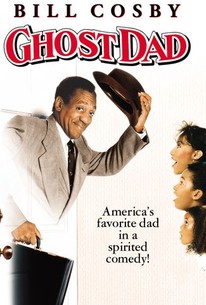 TOMATOMETER
AUDIENCE SCORE
Critic Consensus: A startlingly misconceived effort from director Sidney Poitier and star Bill Cosby, Ghost Dad is a listless, glacially-paced comedy that's alternately schmaltzy and incomprehensible.
Movie Info
When widowed businessman Elliot Hopper (Bill Cosby) goes hurtling off of a bridge in a taxi cab, he comes back as a ghost in order to see to it that his children will be provided for. Elliot and his kids struggle to outwit his business partners, fool his neighbors, and find a way to bring him back to life before his time runs out.
Critic Reviews for Ghost Dad
Audience Reviews for Ghost Dad
I may be a sucker for a bad film, but this is not even categorized as a fun bad movie, it just plain sucks. Sure, some of the unintentional humour was hilarious, unless it was meant to be funny, but it definitely looked like they were trying. For it's time, the effects were not bad, but the plot and events throughout the film are just so random and dumb. They honestly make up new rules for the plot as it goes along. I felt like I was going to enjoy it more than I did in the first 20 minutes, but then every rule changes rapidly throughout each scene and just left me frustrated. When half of your movie does not make any sense, that means the film makers have failed. That is exactly what "Ghost Dad" is. Not even the performances could save it, because they are so goofy. Wow did this movie ever suck.
Probably Bill Cosby's best movie since the 70s, and that's not saying much. Anyway, it's a good family film, I saw it when I was a kid. It's good.
Great Comedy but easily forgetable. There was something lacking in Billy Cosby`s perfomance and cannt figure out what.
Ghost Dad Quotes
There are no approved quotes yet for this movie.