Ghost Dog - The Way of the Samurai
(2000)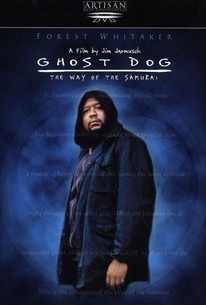 Ghost Dog - The Way of the Samurai Videos
Ghost Dog - The Way of the Samurai Photos
Movie Info
A surreal crime drama told as only Jim Jarmusch could, Ghost Dog: The Way of the Samurai stars Forest Whitaker as Ghost Dog, a hit man living in an unidentified but run-down city in what license plates call "The Industrialized State." Known for his gift of being able to come and go without people noticing him, Ghost Dog is a self-taught samurai who is obsessed with order and his strict personal moral code, drawn from the philosophies of the Japanese warriors. As every samurai needs a leader to whom he swears loyalty, Ghost Dog has devoted himself the service of Louie (John Tormey), a low-level crime boss who once saved his life. When Louie's superiors decide he must be executed, Ghost Dog leaps into action, methodically wiping out his many enemies. Along with a dizzying series of stylized shoot-outs, Ghost Dog also features carrier pigeons, characters who read Rashomon, a French-speaking ice cream man, and a score by RZA from the top-selling hip-hop group Wu-Tang Clan, who have their own well-documented obsession with Asian culture. Ghost Dog was screened in competition at the 1999 Cannes Film Festival.
News & Interviews for Ghost Dog - The Way of the Samurai
Critic Reviews for Ghost Dog - The Way of the Samurai
Audience Reviews for Ghost Dog - The Way of the Samurai
Daniel J DeMersseman
Super Reviewer
½
[img]http://images.rottentomatoes.com/images/user/icons/icon14.gif[/img]
Directors Cat
Super Reviewer
½
A well-constructed and superb genre piece that has a terrific and poignant mixture of urban attitude, street savvy, stylistic shootings and compelling samurai wisdom along with gangster, western and martial arts genre films. A skillful and darkly engagging character study. A beautifully made and brilliant film. A sharply entertaining and stylish crime-thriller. It`s smart, funny, cool, thrilling and action-packed. An instant classic. A great and genuine surprise to watch. Forest Whitaker gives an extroadinary and compelling performance, one of his best performances ever, it stands wit his work in Bird and The Last King of Scottland. Director, Jim Jarmusch crafts his masterwork. A skillful and enthralling work of art thats handsomely shot, hypnotic and has a seductive rytham all of its own. One of the best hitman films to come along since The Professional.
Ghost Dog - The Way of the Samurai Quotes
| | |
| --- | --- |
| Ghost Dog: | Our bodies are given life from the midst of nothingness. Existing where there is nothing is the meaning of the phrase, "form is emptiness." That all things are provided for by nothingness is the meaning of the phrase, "Emptiness is form." One should not think that these are two separate things. |
| Ghost Dog: | Our bodies are given life from the midst of nothingness. Existing where there is nothing is the meaning of the phrase, 'form is emptiness.' That all things are provided for by nothingness is the meaning of the phrase, 'Emptiness is form.' One should not think that these are two separate things. |
| | |
| --- | --- |
| Ghost Dog: | It is bad when one thing becomes two. One should not look for anything else in the Way of the Samurai. It is the same for anything that is called a Way. If one understands things in this manner, he should be able to hear about all ways and be more and more in accord with his own. |