Ghost Hunters: Point of Contact
(2006)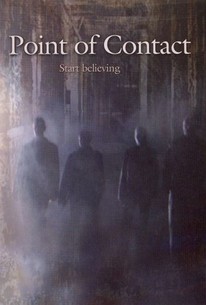 AUDIENCE SCORE
Critic Consensus: No consensus yet.
Movie Info
A man with the poser to see the dead attempts to discern whether his newfound ability is a curse or a blessing in this independent supernatural thriller from directors Hank Stone and Roy Kurtluyan. Jake McCormick was the victim of a college prank gone horribly awry. After awakening from a twelve year coma, he realizes that he has somehow developed a unique ability that could destroy him if he fails to harness it properly. Jake can see the dead, but without the skills of a proper clairvoyant he's ill equipped to cope with the ability to communicate with the dead. Assaulted with a horrifying barrage of intense nightmares and bombarded with restless spirits, Jake enlists the aid of gifted medium Andrea Riley in hopes that she possesses the key to teaching him to transform a perceived affliction into something positive. Together, Jake and Andrea come to the conclusion that Jake is a conduit to the afterlife - a rare Point of Contact between the mortal realm and the spirit world. Perhaps with a little training, Jake can learn to use his powers to track down evil spirits and send them screaming back to the netherworld.
Critic Reviews for Ghost Hunters: Point of Contact
There are no critic reviews yet for Ghost Hunters: Point of Contact. Keep checking Rotten Tomatoes for updates!
Audience Reviews for Ghost Hunters: Point of Contact
How many times have we seen this kind of movie before? Compete rip off. And not only that, it was completely boring. This movie made it so hard to pay attention to what was going on. With all the dream sequences and dark photography, which also made it hard to determine what was going on. Bad acting and a bad story with everything else involved make this movie a must skip movie.
Ghost Hunters: Point of Contact Quotes
There are no approved quotes yet for this movie.