Ghost in the Shell
(1996)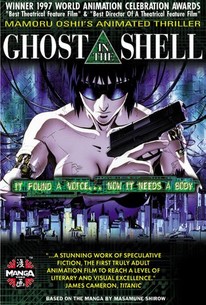 TOMATOMETER
AUDIENCE SCORE
Critic Consensus: A stunning feat of modern animation, Ghost in the Shell offers a thoughtful, complex treat for anime fans, as well as a perfect introduction for viewers new to the medium.
Ghost in the Shell Photos
Movie Info
In the year 2029, the world has become interconnected by a vast electronic network that permeates every aspect of life. That same network also becomes a battlefield for Tokyo's Section Nine security force, which has been charged with apprehending the master hacker known only as the Puppet Master. Spearheading the investigation is Major Motoko Kusanagi, who -- like many in her department -- is a cyborg officer, far more powerful than her human appearance would suggest. And yet as the Puppet Master, who is even capable of hacking human minds, leaves a trail of victims robbed of their memories, Kusanagi ponders the very nature of her existence: is she purely an artificial construct, or is there more? What, exactly, is the "ghost" -- her essence -- in her cybernetic "shell"? When Section Six gets involved in the case, she is forced to confront the fact that there is more here than meets the eye, and that the Puppet Master may hold some of the answers she seeks. But little does she know that he has been seeking her as well. ~ Emru Townsend, Rovi
News & Interviews for Ghost in the Shell
Critic Reviews for Ghost in the Shell
Audience Reviews for Ghost in the Shell
A cerebral, thought-provoking and bleak Japanese animation that pulls us into a cold roboticized world in a not-so-far future and would be an inspiration for many modern philosophical science-fiction works reflecting the fear of technology, such as The Matrix.
Carlos Magalhães
Super Reviewer
Anime has been around for a very long time. Whether in the form of a television show or feature film, there have been many fantastic stories told in Japan. Ghost in the Shell is the type of film that has gained a lot of traction over the years, growing its core fanbase over time. Spawning a sequel and a television series, it was clear that there was much more to explore throughout this world. That being said, this is a very singular story, focussing on its protagonist and whether or not she really is a protagonist or not. In light of the live-action American remake, let's look back on the gloriously written and animated original anime, Ghost in the Shell. In the year 2029, a team of robotic human-like organisms are assembled to take down high-tech hackers. The premise of this film is quite simple, but it's the deep exploration into the past that lead to these events that really make this film worth watching. The way this film delves into the notion that these organisms may actually be human in one way or another is absolutely breathtaking to witness. Many people call this a perfect film, but I feel as though the excess of pounding these beliefs into viewers minds was a bit much. There quite a few sober moments including voiceovers that really go all out in trying to make your mind go crazy. I give it props for actually accomplishing that feat, but it's a little overwhelming to take in upon first viewing. Ghost in the Shell, like Blade Runner, took me a very long time to begin to love it. After giving it time, I enjoyed this film much more upon reflection. From the very first frame of this film, it was clear that the animation itself was what was going to constantly leap off the screen. Now, if you haven't seen this film, don't go in thinking that the clarity of the image will blow your mind, because it really is just the simplistic attention to detail that made this film as great as it was. The filmmakers truly knew what to showcase in certain moments, making for one visually stunning work of art. Sadly, the world itself was more interesting to me by the end of the film. The way everything came to be, the characters, visuals, and the overall concept is what made me love this movie. The story on the other hand was too complex, seeing as the core storyline was extremely simple. It may be hard to understand where I'm coming from in this regard, but bear with me here. Ghost in the Shell is a fantastic premise, bogged down by an excessive amount of side plots. Now, throughout the film, it does seem to be simplistic to most viewers, but the viewers who really take the time to think about the overall impact of the story are the ones who will get the most out of it in the end. Never once did I feel that anyone under the age of 21 could remotely enjoy this film, due to the fact that it's complicated nature of storytelling took away from the overall experience, at least in my opinion. Many people will probably disagree with me, but there was too much going on throughout this film for just a mere 80-minutes. I would have loved to see a two hour cut, fleshing out certain aspects even more. In the end, the original Ghost in the Shell is a fantastic film that would have been perfect with a longer run time. I found myself slightly bored in some areas, due to the fact that they were taking too much time to explore certain elements that would hardly have an impact on this particular film. As I said, if this was a two hour film, I would probably have called this a masterpiece, as it would have had time to explore certain things it had set up. All of that being said, I had a blast with Ghost in the Shell (1995) and I highly recommend this stunning, thought-provoking, and well thought out film to anyone who doesn't mind using their brain a lot when watching a film. Great anime.
½
A cyber-punk classic that explores important questions regarding artificial intelligence, identity, and what makes us human. The art-house-like moments of quiet visual beauty, emphasis on atmosphere, and heavy-doses of symbolism elevate this film not only to quintessential anime status, but as a masterful piece of cinema. Note: This film was a significant influence on "The Matrix" trilogy
Christopher Heim
Super Reviewer
Ghost in the Shell Quotes
| | |
| --- | --- |
| Bateau: | There's nothing sadder than a puppet without a ghost, especially the kind with red blood running through them. |