Ghost Ship
(2002)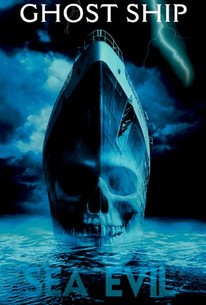 Movie Info
A salvage team think they've made the find of a lifetime, until they discover there's more on board than meets the eye in this supernatural thriller. Led by Captain Sean Murphy (Gabriel Byrne), the crew of the tugboat Arctic Warrior have discovered a sideline far more lucrative than hauling ships in and out of the harbor -- they locate missing or wrecked ships in international waters, repair them until they can be brought back to port, and then sell off the ship and its contents as salvage. Acting on a tip from Jack Ferriman (Desmond Harrington), a pilot in the Canadian Air Force, Murphy and his crew -- salvage expert Maureen Epps (Julianna Margulies), first mate Greer (Isaiah Washington), and crewmen Santos (Alex Dimitriades), Dodge (Ron Eldard), and Munder (Karl Urban) -- set out to find a large craft seen adrift off the Alaskan coastline. To their surprise, the crew of the Arctic Warrior discover what appears to be the Antonia Graza, a famous Italian ocean liner, legendary for its luxury, which vanished without a trace in 1962. While they at first anticipate the payday of a lifetime from this find, the crew soon discover a sinister force has taken control of the ship, and before long they're battling not for salvage rights, but for their lives. Ghost Ship was directed by special effects man turned filmmaker Steven Beck, who previously directed the 2001 remake of 13 Ghosts.
News & Interviews for Ghost Ship
Critic Reviews for Ghost Ship
Audience Reviews for Ghost Ship
½
I dont know why but every time i watch this movie i enjoy it more and more! Its a good creepy horror that i dont think is a let down at all ! In my books it well worth a watch!
Film Crazy
Super Reviewer
[img]http://images.rottentomatoes.com/images/user/icons/icon13.gif[/img] Once the protaganists got on the titiluar ship there was one massive jump that spooked me, and I was convincing myself that maybe the film wasn't as bad as everyone was saying but to my displeasure it sank my expectations completely shortly afterwards. On the positive side, the acting isn't awful and the set pieces are excellent and sometimes quite creepy. However the plot is derivative and sadly it's never as scary as it should be.
Directors Cat
Super Reviewer
Can I please get one thing straight - if a film has a jumpy moment near the beginning of a film, it HAS TO KEEP TO THAT JUMPY THEME! You get one jumpy scene with a clock, then that's it folks - Ghost Ship is flawed from the start. A scene where a boat full of people are killed by a metal wire that rips them all in half? I'm sorry, but no. Just no. It didn't work and I still don't get why it had to happen or why the villain had to exist in the first place, let alone the movie. I was told by two horror fans it was, and I quote "...alright". WRONG! It was one of the worst films I have ever seen. It seems to be suffering from what shall henceforth be known as the Paranormal Activity effect: the PA effect is where a film tries to make itself out as a good film, before failing after about 10-20 minutes (in most cases). In this film it took about 20 minutes for me to get bored and start half watching for a while until the ending. The only major attractions of the film are the ending (after the bit that belonged in a PG or a U (to be honest, that bit was ripped off from Pokemon The First Movie!)) where you find out something that gives the film a perk towards a good horror, the brief scene of nudity and the violence. If you are the sad sort of person who only wants a little bit of violence, poorly chosen music for the setting, and A pair of breasts, then watch this. But for those people who have taste and want to watch a good horror film, let this movie sink like the Titanic!
BG Movie Reviews 2011
Super Reviewer
Ghost Ship Quotes
| | |
| --- | --- |
| Greer: | Francesca, I know all of this isn't real. So I'm just gonna go with it, okay? Can't cheat on your fiancée with a dead girl, right? |
| | |
| --- | --- |
| Murphy: | These Italian liners, ya know, they couldn't compete for speed, so they built these floating art palaces instead. |
| | |
| --- | --- |
| Murphy: | I do know one thing, I've seen strange things happen in the strait. But, I know something else. Sea gives you an opportunity, you take it. |
| | |
| --- | --- |
| Munder: | I think I just shit my pants. |
| Dodge: | No, you always smell like that. |