Ghost Storm
(2011)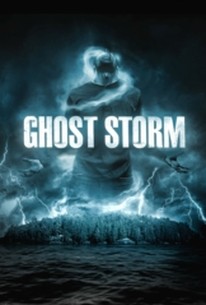 AUDIENCE SCORE
Critic Consensus: No consensus yet.
Movie Info
The inhabitants of a small island flee in terror as vengeful spirits stir up a supernatural storm of apocalyptic proportions.
Critic Reviews for Ghost Storm
There are no critic reviews yet for Ghost Storm. Keep checking Rotten Tomatoes for updates!
Audience Reviews for Ghost Storm
½
The basic concept of this SyFy Channel Style low budget horror is not all that bad as far as B-Movie tropes are concerned. A band of alleged suicide victims (mass suicide!) are released when lightning strikes the memorial gravestone. Cue a giant storm made of ghosts that chases down the villagers and sucks the life out of them, turning them into piles of rubble and dust. Some of the concepts work and some dont. The idea of a giant storm is just not as terrifiying as it sounds, especially as it is not the storm but the vapour that actually does the damage. And that is when the film is bordering on the edge of actually working. The idea of making sure that none of the ghostly essence can actually enter the house is pretty neat and reminds me of a inside-out version of The Fog, pushing clothes into the cracks under the door, closing windows,doors and vents, putting tape over the window panes etc. all makes for solid surivial horror. Sadly, the film does not focus on a handful of characters stuck in one single location but aims for the big picture, a conspiracy regarding the suicide, the past of the whole town and finally - wait for it - hacking a weather ballon with a computer program to fight the storm of ghosts. Usually, I applaud films that try and stick to their guns and go with the story and idea they are initally trying to bring across, yet this one should have focussed on the people and the tangible effects of horror within a small community instead (it does scratch that surface here and then but it never accelerates to top speed). The SFX are as bad as one would expect and I wonder why one would go for something so hard to depict as a storm of ghosts with a budget that low and SFX talent that bad. The make up guy did a good job whenever there was no SFX involved, shame that. The acting is surprisingly good and on the level of your average American Crime series (Picket Fences etc.), but the direction and script just keeps whatever talent there might be down to ground level. All in all, a nice "trashy" horror for genre fans with some moments where everything comes together nicely but it keeps falling apart too often to actually stand as a film of quality.
Henrik Schunk
Super Reviewer
Ghost Storm Quotes
There are no approved quotes yet for this movie.